Ian Kinsler Has a Tough Time with Fastballs
During a season that has been less than stellar for the veteran second baseman, Ian Kinsler continues to have problems hitting fastballs. As his abilities decline, his role with the team is becoming increasingly unclear and uncertain. 
Recently there's been a lot of talk about Ian Kinsler because of his actions after hitting a key home run for the Padres against the Pirates.
This is understandable. However it's not relevant to evaluating Kinsler's performance objectively. The data shows that Kinsler is not the player he used to be and struggling in many parts of his game. Once a gold glover at the keystone, he's produced negative value defensively in 2019. His baserunning has also rated out negatively for the first time in his career.
However, the most concerning aspect of Kinsler's profile has been his hitting this season, which has been dismal.
The primary issue with Kinsler's hitting is that he just isn't good at hitting fastballs at this point in his career. As Kinsler has aged, pitchers have thrown harder than ever before, and this has only further exacerbated his performance. This is evident because twelve of his twenty-four hits have been off of non-fastballs this season. Furthermore, Kinsler especially struggles with fastballs above 95 mph. He only has one hit this season on such pitches, which illustrates a part of why he's hit so poorly thus far.
What's even more interesting about Kinsler's lack of hits against premium velocity, is that his only hit was a blooper that barely left the infield. Take a look at the awkward situation that unfolded for him to get a base hit on a ball hit at 49.1 mph: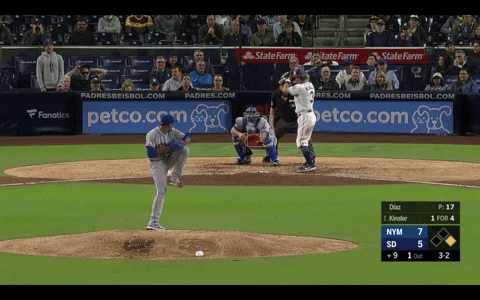 Kinsler definitely got jammed, and just barely fought off the pitch with a defensive swing at the last minute. It's pretty unbelievably lucky that the ball just barely dropped in between Canó and Alonso, right? This is probably the Padres' luckiest base hit of the entire season thus far. Kinsler does not hit hard fastballs well, but there's still more to talk about about his troubles against fastballs.
Let's look at some data on his numbers facing fastballs:
| | | | | | |
| --- | --- | --- | --- | --- | --- |
| Pitch Type | Count | BAA | SLG | ISO | BABIP |
| Four Seam | 253 | 0.186 | 0.322 | 0.136 | 0.184 |
| Sinker | 81 | 0.167 | 0.389 | 0.222 | 0.154 |
| Cutter | 34 | 0.111 | 0.111 | 0.000 | 0.200 |
Because Fastballs are the pitches most hurlers center their arsenal around, it's very concerning that Kinsler is hitting so poorly against them. This isn't an issue with a small sample, as he's certainly seen a sufficient number of pitches for us to be confident about his abilities when facing them. Although his BABIP is low across the board against fastballs, it's not because he's been unlucky on batted balls. His average exit velocity against Fastballs this season is 82.5 mph, which is underwhelming considering that the average exit velocity league-wide is 89 mph. The average distance on those batted balls is 159 feet, which is a mere foot further than the 158 feet from home plate where he positions himself at second base. That doesn't bode well for his performance at the plate.
The issues Kinsler has with fastballs go beyond his weak batted ball profile against the pitches, though. It's just as much an issue of making contact in the first place as it is a problem related to his less-than-ideal exit velocities when facing fastballs. Kinsler's whiffs on fastballs thrown to him make up 48.9% of the pitches he's swung-and-missed on in 2019. Why has he whiffed so much against the pitch? Taking a look at the pitch locations of the fastballs he's whiffed on allows us to understand the answer to this question better. Here they are:
Obviously, Kinsler has issues hitting outside fastballs, as this chart shows us. That's a significant portion of the zone that pitchers often throw towards, where he's whiffing quite often. This leads to the question of whether Kinsler has a weakness on outside pitches? Looking at the whiffs he's had on all pitches, that certainly seems to be the case:
So he's whiffed on the low and outside pitch quite often, which is definitely not ideal considering how often pitchers target the location. A significant issue for Kinsler is plate coverage, which the chart above illustrates. The final chart below shows the pitch locations of Kinsler's hits this season, nearly none of which are in the zones shown in the previous two charts:
Well, at least he can hit pitches thrown over the heart of the plate, which is somewhat encouraging for a change. Yet his low number of hits in the locations where he's whiffed so often is quite disappointing and illustrates why the 36-year old has struggled so much. When the Padres signed Ian Kinsler, this is certainly not what they had in mind. Controversies aside, he's been an objectively below average major league player this season. The data and charts above are enough on their own to justify letting the second baseman go. It's now a question of how long the Padres are willing to wait for a 36-year-old veteran to learn to hit fastballs.
All data in this article was taken from Baseball Savant and Brooks Baseball.
Total Views: 122 ,
(Visited 334 times, 1 visits today)