Reyes or Renfroe? Padres Shouldn't Keep Both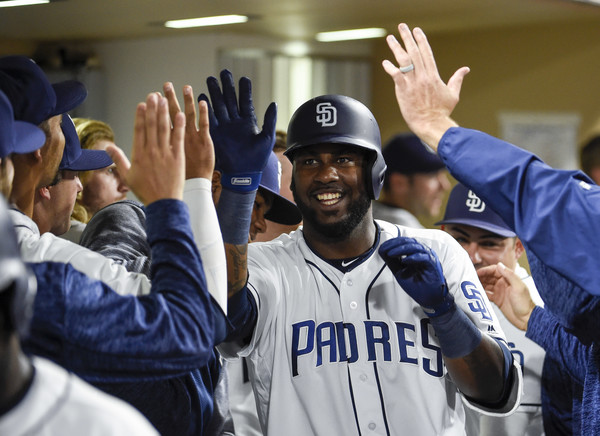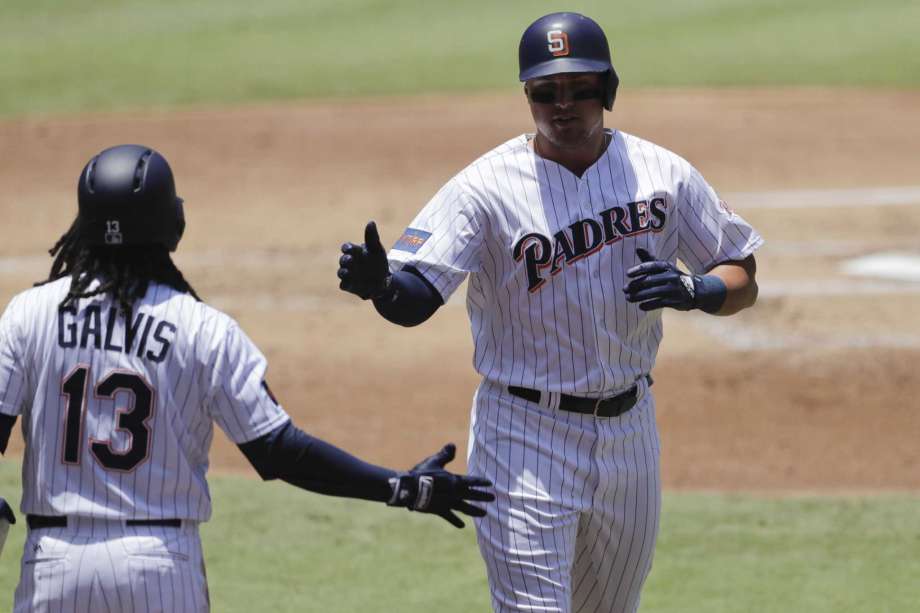 It appears that the San Diego Padres have a decision to make in the outfield for 2019. It looks like Franmil Reyes and Hunter Renfroe will be in direct competition for one of the corner outfield spots, and quite frankly, one of them has to go. Who should it be?
The offseason is barely a month old, at least for the Padres, and we have already heard approximately 1,394 hypothetical trade situations. That is to be expected in the offseason, and frankly, that's what makes it fun – the possibilities. Most of those trade suggestions involve the Padres moving a corner outfielder. There is no secret that there is a logjam in the outfield and it needs to be resolved.
Many are clamoring to get rid of Myers and his cumbersome six-year, $83 million contract that will get much more expensive after next season.
While I certainly understand that reasoning, that contract could be the very thing that prevents the Padres from getting the return they want for him. Plus, when healthy, he has the most pop on the team. Also, the Padres may not even envision him as part of the outfield situation as he finished the season playing 36 games at third base.
The Padres have two young outfielders who are similar in style that could be attractive to other teams. Franmil Reyes and Hunter Renfroe both had breakout seasons of sorts. Both are right-handed power bats while also not exactly playing Gold Glove defense in the outfield.
Let's take a look at both of their cases to be kept on the Padres roster as opposed to being traded. The Padres don't need both of these players, with similar skill-sets, moving forward. Frankly, on the surface, this looks to be summed up by the Spider-Man pointing meme.
The Case for Keeping Hunter Renfroe
Renfroe had a career year in 2018. Among Padres hitters with at least 300 plate appearances (seven Padres reached that mark), Renfroe led the team in home runs (26), slugging (.504), and wRC+ (114). For all intents and purposes, Renfroe was San Diego's best overall hitter in 2018, which comes as a huge surprise given his struggles in 2017, plus the addition of Eric Hosmer.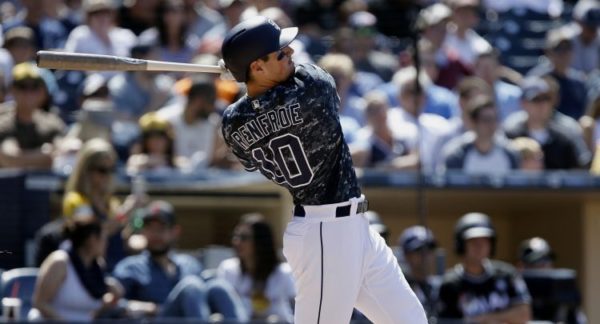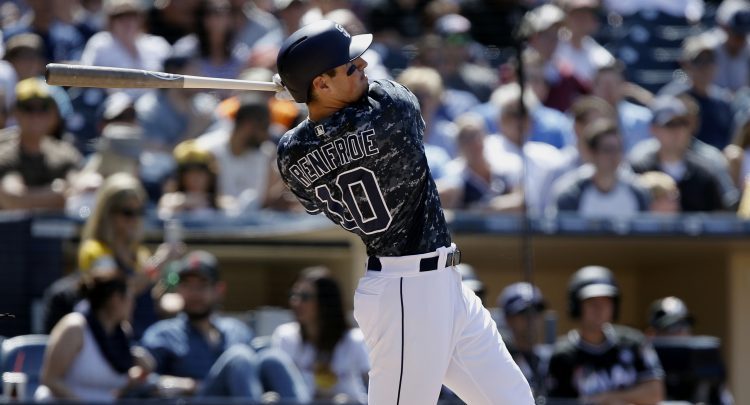 He seemed to get better as the year went along, which is also encouraging. In the first half of the season, he had a 109 wRC+ with a 26.8% strikeout rate and .241 average. After the All-Star break, those numbers improved to 119, 23.1%, and .253, respectively. Despite some whisperings of attitude issues, especially when he was sent down towards the end of the 2017 season, he seemed to be coachable and responded well to end 2018.
Renfroe has improved every season he has been up. With roughly the same amount of playing time in 2017, he raised his wRC+ by 20 and cut his strikeouts down by almost 5%. He even lowered his strikeout rate to where it beat Reyes' mark from last season.
Defensively, despite some criticism, Renfroe's metrics are acceptable. With his kind of bat, he doesn't need to be a bounding gazelle out in the field with Gold Gloves galore. Still, he posted a +5 Defensive Runs Saved mark with a UZR just below 0 at -0.8. Plus he has a rocket for an arm, even if that means errant throws every now and then. That can be improved with experience. He is easily a better defender than Reyes.
Speaking of experience, that is another place that Renfroe has the edge over Reyes. Renfroe has logged 956 plate appearances in 250 career games. Franmil Reyes has 285 plate appearances in 87 games, all last year.
The Case For Keeping Franmil Reyes
Reyes is a fan favorite, that is for certain. Suggesting he be traded automatically ruffles some feathers just with his sheer likeability. I too, like Franmil Reyes. Hence why he would be attractive in a trade or to keep on the roster. Reyes shows plate discipline and an approach at bat that are beyond his years. His 8.4% walk rate beats out Renfroe's 6.8% from last season.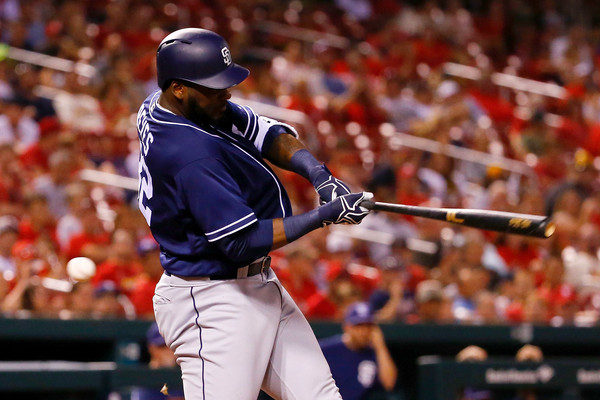 Reyes finished the season with 87 games, 16 home runs, and batting .280 with a 129 wRC+. Give him a full season and those numbers become quite impressive. Reyes is a big dude at 6-5, 275 pounds, and thus he generates plenty of power. Yet, he gives you that "professional at-bat" people talk about – taking bad pitches, fouling off tough ones, and waiting for his pitch. Reyes has 25+ homer power but also has the savvy to keep his average above .250, something Renfroe certainly struggles with.
Out in the field is where Reyes falls short compared to Renfroe. He posted -1 Defensive Runs Saved and a -4.4 UZR, both significantly lower than Renfroe. Defensive metrics are far from perfect, but its clear defense is not Reyes' strong suit. In fact, if this was an argument for who should be designated hitter, I am not sure the argument would be very close. Reyes fits that bill perfectly. Unfortunately, we are in the National League where the DH is not a thing and all hitters must also play defense, for better or for worse.
Reyes seems to have a great attitude and worth ethic. He also seems to have a good relationship with some of the up and coming prospects and the future of this organization, like Luis Urias. Clubhouse chemistry is a fickle thing, but an important one if a team has playoff aspirations. Reyes seems like the type of player and person that is enjoyable to be around for a long, 162-game season.
Here are a few more comparisons from the 2018 season, keeping in mind Reyes' smaller sample size.
O-swing % ( swinging outside the strike zone)
Franmil Reyes
31.7%
Hunter Renfroe
32.6%
| | |
| --- | --- |
| | Hard contact % |
| Franmil Reyes | 44.2% |
| Hunter Renfroe | 47.2% |
ISO
Franmil Reyes
0.218
Hunter Renfroe
0.256
WAR
Franmil Reyes
1.2
Hunter Renfroe
1.6
All in all, there are pros and cons to keeping each one. There is some give and take. Renfroe clearly is the better defender with a comparable power bat, but Reyes seems to have more intangibles and a mature approach at the plate. They basically serve the same role so it would behoove the Padres to move one in a deal that gets them MLB-ready talent. I suggested the Padres include Reyes in a deal to acquire Mariners ace, James Paxton. This is an important offseason for the Padres, smack in the middle of this rebuild, and perhaps on the upswing towards contention.
Total Views: 352 ,
(Visited 1,504 times, 1 visits today)