Competition Will Be a Common Word Used by the Padres in 2019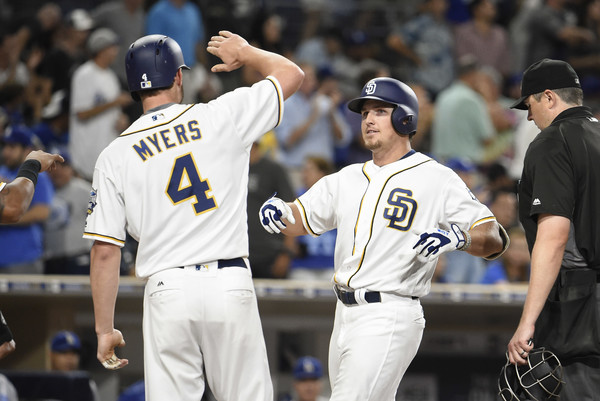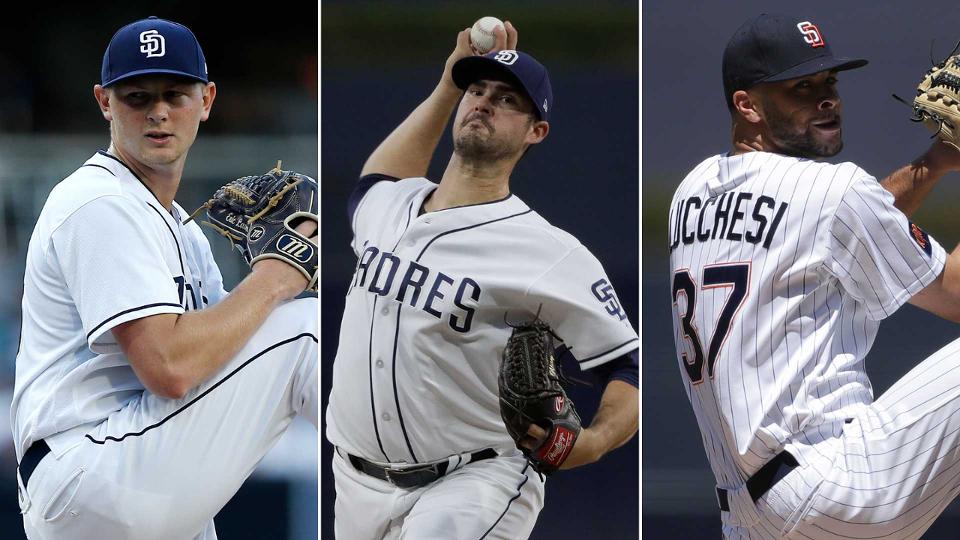 Major League Competition
The Rotation
Joey Lucchesi, Eric Lauer, and Jacob Nix all established themselves in 2018. Each has stuff to work on to stick in a big league rotation, but you can surely see why there is excitement if Friarland. Each of these players was never considered top-10 prospects in the system. That is truly amazing as they have clearly shown they each have value. Besides these three men, the Padres have veterans Clayton Richard, Matt Strahm, Bryan Mitchell, and Robbie Erlin as early possibilities. They could also acquire a pitcher or two in a trade or sign a free agent or two. There are plenty of options for the team currently at the major league level in regard to the starting rotation.
The most exciting part of the depth in this area is the fact that Chris Paddack, Cal Quantrill, and Logan Allen are all only a phone call away. Each of these men are considered "better" prospects than the Nix/Lauer/Lucchesi trio, and that should be a scary thing to think about for the rest of the NL West. Ryan Weathers, Luis Patino, Michel Baez, Adrian Morejon, and MacKenzie Gore are also waiting in the wings. If you want competition, you definitely get it from this group. There is just no way all these men can play for the team at the same time in a few years. The sky is the limit with this group and competition fuels the fire for these young hurlers.
The Outfield
There is going to be some real competing here, as both Franmil Reyes and Hunter Renfroe have shown that they can be valuable offensive weapons. They will likely man the corner spots, and Manuel Margot looks locked into the center field job, but where does that leave Franchy Cordero? Then there is Wil Myers, who can also play the outfield, and it is arguably his best defensive position.
That's four or five men who deserve to play every day, and that is not even factoring Travis Jankowksi, who deserves consideration as well. Jankowski stole 24 bases and produced a 1.1 WAR in 117 games and 347 at-bats. He is probably best suited as a #4 outfielder, but his presence means that the roster is indeed crowded. Something could give here as the Padres are rumored to be exploring possible trade options. The outfield situation will be reassessed as there is plenty of competition there. The Padres will expect these men to battle in the spring, and they will.
Third Base
Wil Myers manned the position for most of the end of the 2018 season, but Christian Villanueva had a very productive rookie campaign in which he hit 20 homers and recorded a .750 OPS in 110 games. Myers could go back into the outfield depending on what happens in that area, but he has reportedly enjoyed playing third and is supposed to work diligently this offseason and spring on his defensive abilities.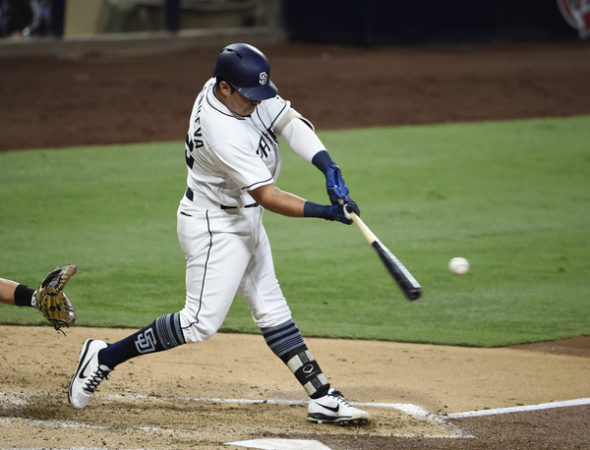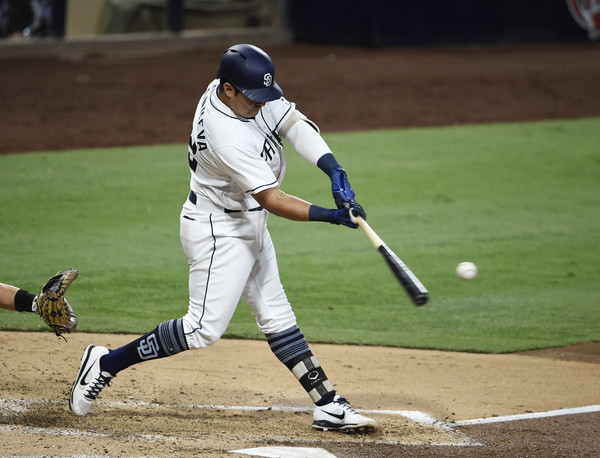 Villanueva started out the season very hot, but faded badly down the stretch. He was, at the time, very pull-happy and had difficulties against right-handed pitchers throughout the year. He does not have minor league options and will need to remain on the roster to stay with the team in 2019. Villanueva can and has played shortstop, but he does not look like a realistic option there on a daily basis. This will be a competition for the team as both men are viable weapons at a position that needs offensive thump.
Catcher
Who will the Padres choose in 2019? Francisco Mejia or Austin Hedges? Maybe both. There is no easy answer for the team right now. That is just fine for the Padres as the two backstops compliment each other and could thrive in a direct competition for playing time. Mejia provides a switch-hitting offensive force for the team, while Hedges is regarded as a superb defender. Both have gotten all they can out of the minor leagues. They are both major league catchers.
No matter what the team decides, there will be competition here as the Friars have options beyond these two in the farm. Young backstops can be difficult to read though, as they have so many responsibilities that go way beyond the stat sheet. If Mejia and Hedges head into camp on the roster, then this will be an intense battle. Competition breeds success and the Padres should have a productive backstop for years to come.
Minor League Competition
Middle Infield Spots
The Padres have a huge amount of middle infielders in the minor leagues. Owen Miller and Xavier Edwards were both drafted this June, and each has excelled in only a matter of months. Adding them to names like Gabriel Arias, Esteury Ruiz, Jordy Barley, Justin Lopez, Eguy Rosario, Luis Almanzar, Tucupita Marcano, Jarryd Dale, and Olivier Basabe, and the Padres have prepared themselves for plenty of depth at the position for years to come.
Some of these men might never make it all the way to the majors, but they all provide some worth to the farm system. Miller made it all the way to Double-A in 2018, where he played in the playoffs for San Antonio. He played first base at the Don Welke Classic and can play all around the infield if necessary. The competition throughout the minors in the middle infield is going to be wild. What the Padres will do, is anyone's guess. They have plenty of options.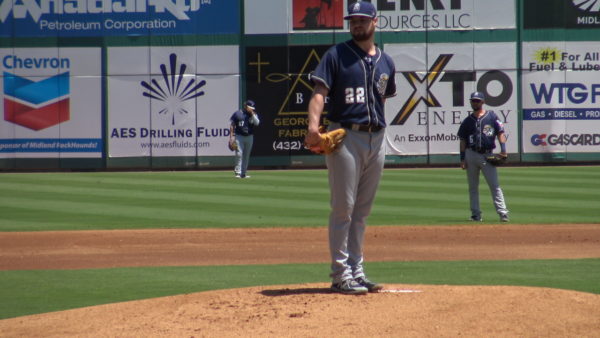 Rotation Spots
The minor league system for the Padres is full of starting pitchers, as each affiliate has options and a healthy group of starters to choose from. El Paso will probably have Cal Quantrill, Chris Paddack, and Logan Allen leading the way. In Amarillo, the staff will most likely have Michel Baez, Adrian Morejon, and Anderson Espinoza at the top of the rotation at the Padres' newest affiliate in Texas. These six men alone provide an excellent future for the team and it is not inconceivable that they each reach the majors in 2019. Morejon is a bit young and Espinoza has injury issues, but it really could happen if they emerge out of the pack.
Then there is Lake Elsinore and Fort Wayne in the lower ranks, where the team will have Luis Patino, MacKenzie Gore, Ryan Weathers, Reggie Lawson, Nick Margevicius, Mason Thompson, Pedro Avila, Aaron Leasher, and Omar Cruz as options in the rotation. There are more pitchers too — plenty of players who could emerge in 2019, very easily. This ridiculous amount of depth gives the Padres' young hurlers a competitive sense with each other. They will thrive in this environment and only the strong will survive.
Mid-Level Catching Depth
Austin Allen could be protected by the team this winter, as he needs a 40-man roster spot before the Rule-5 draft. Beyond Allen, the team has players like Luis Torrens, Marcus Greene Jr., Luis Campusano, Blake Hunt, Alison Quintero, and possibly Nick Gatewood and Jonny Homza, who are question marks at the position moving forward.
This area does not seem very deep, but Francisco Mejia is 22 and Austin Hedges is 26 years old. The Padres will be fine in the catching area for a long time. If they choose to move a young prospect, it would not be the end of the world. If they keep all their catchers heading into the spring, then there will be plenty of competition within this group.
Total Views: 514 ,
(Visited 1,027 times, 1 visits today)