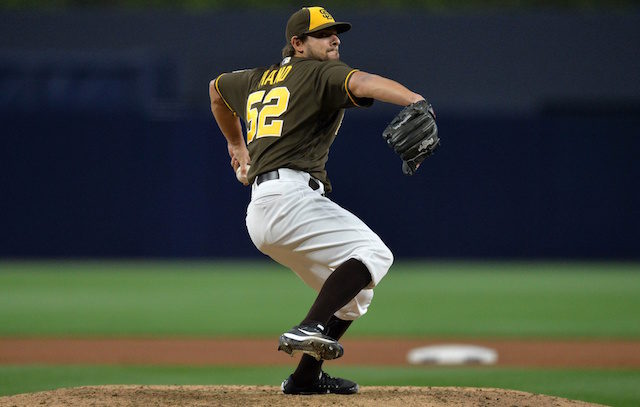 The Philadelphia Phillies' interest in Padres' closer Brad Hand may build in the next month or so. If the Phillies stay in contention in the NL East, they could be in the market for relief help, and the Padres could be that perfect fit.
It is clear that San Diego Padres' closer Brad Hand is one of, if not the hottest, commodities among trade talks this year.
Hand is an elite left-handed closer with a wipeout slider who makes hitters like Bryce Harper flail through pitches like they are swinging garden hoses. Hand is second in the National League with saves with 19, and it is no secret that general manager A.J. Preller is asking for the moon in trade talks.
Of course, there are plenty of teams that could use Hand in their bullpen, but few have the farm systems to match the asking price put on by Preller. However, there is one dark horse team that could use a left-handed reliever in their bullpen; the Philadelphia Phillies.
Currently, the Phillies have one left-handed reliever in their bullpen in Adam Morgan. Morgan currently sports a 5.29 ERA along with a 1.70 WHIP and recently gave up a walk-off grand slam to Jason Heyward, who until that point had hit a whopping one home run against lefties in the past two seasons. In each of his previous seasons in the City of Brotherly Love, he has never had a season where his final ERA rested below a 4.00.
The Philadelphia closer, Hector Neris, is another story on his own. The once-promising right-hander has struggled to a 5.01 ERA as a closer with a 1.54 WHIP. Batters are enjoying a healthy .280 batting average and Neris already seems to be losing his closer spot to younger players like Seranthony Dominguez. However, the Phillies are still only three games behind first place in the National League East and are fighting to stay alive. If the Phillies are still in the thick of the fight come the trade deadline, the Padres should be more than interested in swinging a deal with the Phils.
The Phillies should be interested in Brad Hand for many reasons. The most obvious is that Hand could slide right into the closer role without hesitation. Second, he would offer instant left-handed relief to a team in desperate need of it, as he is capable of throwing in the eighth inning as a set-up man while being absolutely stingy against left-handed batters, allowing two hits in 36 at-bats for a minuscule .056 batting average.
What may be the most important reason these two teams match up is that the Phillies can afford the price tag on Hand. With a farm system ranked fifth by MLB.com, the Phillies have many prospects that suit Preller's wants. Hand is certainly worth a package of prospects, highlighted by one or two of Philadelphia's top prospects with another lower ranked prospect.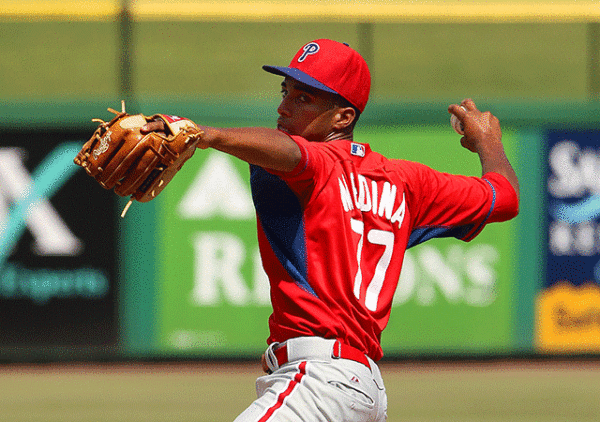 While it may be hard for Preller to acquire a prospect package filled with the best of the best of Philadelphia's prospects, the Padres could still get an Andrew Miller-type deal for Hand. One who could headline a package is the second-ranked prospect in the Phils' farm system, Adonis Medina. Medina is a three-pitch pitcher with a fastball that can sit at 92-94 MPH, a sharp slider, and a changeup that is looking like it could be an above-average pitch. All three of his pitches can generate strikes, while the fastball comes with late life leading to a healthy ground ball rate.
One prospect that is right up Preller's alley is Venezuelan shortstop Arquimedes Gamboa, the eighth-ranked prospect on MLB.com. The 20-year-old struggled in his first two seasons of pro ball, but he has started to pick things up as of late and has made improvements to his strike zone adjustment, shown by his 22 walks against 45 strikeouts. While he has not shown much power yet, the switch-hitter is still growing and will add strength as he gets older. Gamboa is the type of player that Preller loves to acquire; a young, international infielder with a solid hit tool and a good glove. Don't be surprised if his name shows up in a trade with the Padres.
The Padres would surely want at least one more player to complete the package, and one such prospect who could fit the bill is the twenty-seventh ranked prospect, Simon Muzziotti. He is a former member of the Boston Red Sox who was released after Major League Baseball voided his contract with the team for signing infraction. He was picked up by the Phillies and has become a decent piece for them. Muzzioti has a very high contact rate and does not strike out a high clip, evident by the fact that he struck out only eight times in 134 at-bats last year. He is a line-drive hitter and will most likely add power as he grows. He could be a prospect the Padres stash on the minor league disabled list as he did fracture his left index finger, but he could be a valuable piece for San Diego in the future.
The Padres could ask for an extra throw-in piece, but the package described above would still be a good prospect haul for Hand. The Phillies could afford to pay the price for Hand and both sides could come away with a victory as Philadelphia gets their top-tier closer and San Diego gets a good prospect haul that could have an impact on their future.
Total Views: 179 ,
(Visited 2,044 times, 1 visits today)