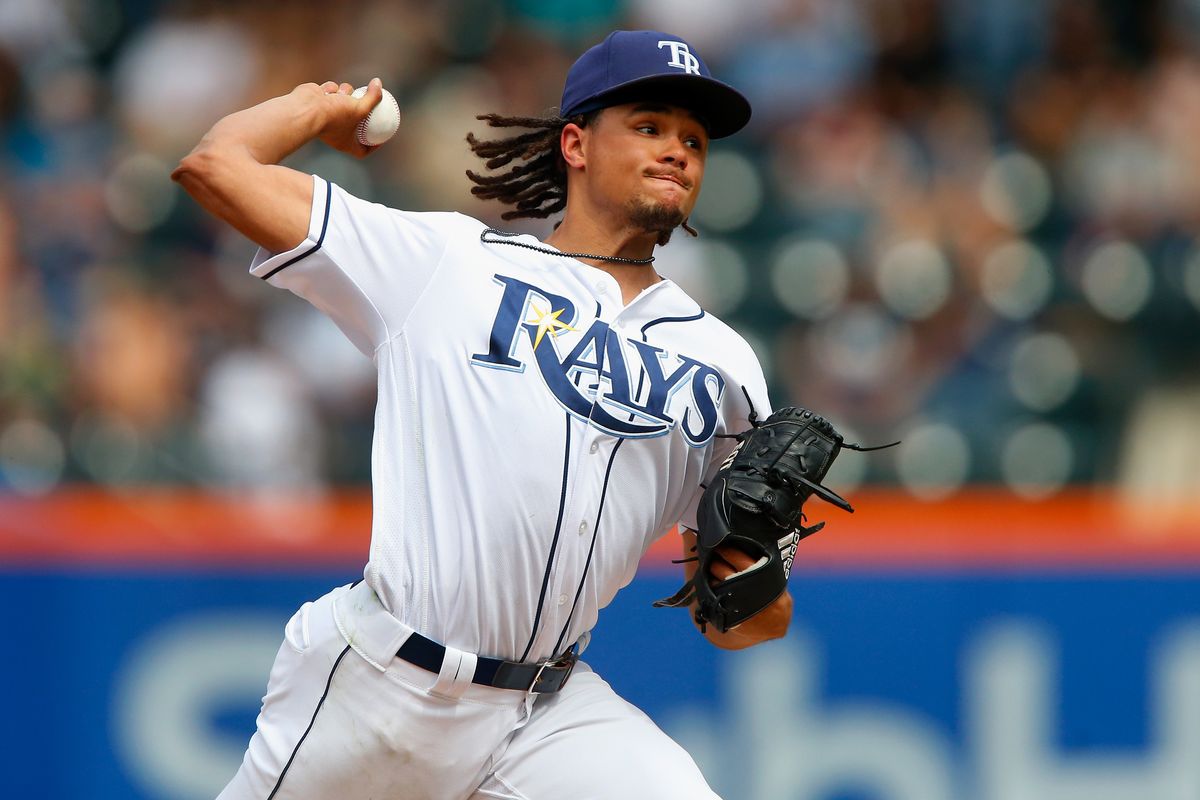 The Tampa Bay Rays have reportedly discussed internally if they should move ace Chris Archer. The San Diego Padres are in need of a top-end starter, but is Archer worth the gamble for the Friars since he will come at a huge cost?
The San Diego Padres surely have a bright future.
Even the most negative of Padre fans must see that the team has built an excellent farm system. We are only barely beginning to see the prospect fruit arrive at the major league level. Franchy Cordero, Joey Lucchesi, Eric Lauer, and Franmil Reyes are only the beginning. Reyes isn't even viewed as top-30 prospect and is not ranked as one according to MLB.com. That tells you about the ridiculous depth in the organization.
A.J. Preller has done well to transform the Padres' system from ashes. Sure, the team had a #1 farm system before Preller, but there was no depth nor a plan for long-term success. The Padres surely have an idea what they are doing now, as they have set up waves of talent within the system that should crest soon at Petco Park.
The minor league system is growing and there is a reason to be content if you are a Padres fan. There looks to be a change in the philosophy of the team, and with that, success should follow closely. And not just one or two successful runs at a World Series title, but years and years of competitive baseball with hoisting that trophy as the ultimate goal.
The Padres have several young arms on the way, but they lack a true "ace". In all reality there are probably only a handful of pitchers whom you would currently refer to as an ace in the game of baseball. Chris Archer is close to being considered an ace, but he has yet to take his game to the ultimate level.
The 29-year-old is 13 games under .500 in his overall career record, with a 54-67 total. A win-lose record might not be the best method to judge worth, especially since he pitched for some really horrible Rays' teams. The two-time All-Star (2015/2017) has amassed a career ERA of 3.67 and a career WHIP of 1.223 in 1,043 innings pitched.
The former 5th round pick in 2006 from the Cleveland Indians is currently shelved with an abdominal injury. He was 3-4 with a 4.24 ERA this year prior to the injury, which occurred in early June. He threw a bullpen session this week and still reported some soreness. There should be an update on his status this week. Archer threw less than a week after originally being placed on the DL. The injury does not appear too serious and should not affect his overall worth on the trade market.
Value is exactly what Archer brings to the table, as he has thrown 200-plus innings for three straight years. Four years ago, he threw 194.2 innings in his first season in the majors and he has proven to be quite durable. The Padres could surely use a pitcher to mentor young players and eat up innings at the top of the rotation.
Probably the best thing about Archer is his team-friendly contract. He is due a total of $6.41 million for this season, which is unheard of for a pitcher of his ilk. In total for the next three seasons, Chris Archer is due somewhere around $27.75 million. A top-of-the-order pitcher for around $9 million dollars is a steal in this day and age of the game. That is why the thought process indicates the Tampa Bay Rays will try to maximize his worth now. They will, at the very least, seriously explore the idea internally.
This report from Ken Rosenthal indicates that the Rays are possibly thinking about it.
Is it time for the Rays to trade Chris Archer?@Ken_Rosenthal discusses pic.twitter.com/dAQ7cBNZaP

— FOX Sports: MLB (@MLBONFOX) June 10, 2018
The Padres will kick the tires on Archer, if they have not already. The two teams match up as the Padres can provide current major league talent for Archer, as well as young prospects that have decent upside. The key to this is how interested the Padres are in the right-handed pitcher.
A.J. Preller is doing his homework; that you can be assured of. Dealing for a pitcher at this age is risky. Major League pitchers have the potential to fall apart all of a sudden. Time and time again through out the history of the game, starting pitchers hit the wall after a certain amount of innings. Chris Archer is not a big guy. He stands at 6-foot-2 and 195 lbs; not optimal size for a pitcher to go deep into their careers without physical issues. There are some red flags, but in any evaluation of a player, you can find faults and issues.
You cannot ignore the fact that Chris Archer has an excellent fastball/slider combination. His hard-tilting slider is rated as one of the best pitches in all of major league baseball. He still has tremendous upside and could take his game to a new level by getting away from the ultra-competitive AL East. Constantly facing teams like the Yankees, Red Sox, and Blue Jays is a difficult thing. Factor in the lack of a DH in the NL, and Archer's numbers could get even better with the Padres.
What it would take for Archer?
You are not going to like this, but in order to land the services of Chris Archer, the Padres are going to have to give up a top-5 prospect in their system to even begin negotiations. And it may even require a top-3 player to start the talks. Archer is signed to such a team-friendly deal that his price tag would be understandably high.
One scenario would be that the Padres would have to part with one of MacKenzie Gore, Adrian Morejon, Cal Quantrill, or Michel Baez, plus a current major league-caliber player (Travis Jankowski, Cory Spangenberg-type) and a lower level prospect in the top-30 or on the cusp of it (Pedro Avila, Michael Gettys, Javy Guerra, David Bednar, etc). That would entice the Rays to start negotiations, but losing a top arm and a few other prospects could be damaging for the overall process of the Friars.
Another scenario would be if the Rays are looking for more advanced players that they can plug into their team now. Guys like Hunter Renfroe, Luis Perdomo, Eric Lauer, and Phil Maton could give the Rays some stability currently and not make the fan base feel like the team is turning their back on them. The Padres could also sweeten the deal with multiple lesser prospects in this proposed offer. There are a lot of names that could be plugged in here as the Padres have plenty of youth.
There is no debate that these two teams match up well in a potential trade. Will the Padres explore this Chris Archer situation, or have they already done the homework and came to a decision? The next month or so of this team and the moves that are made (or not made) will most definitely shape the future of the San Diego Padres. Will Chris Archer be a part of that future?
Total Views: 164 ,
(Visited 1,599 times, 29 visits today)