The Lake Elsinore Storm Defeat Lancaster Jethawks 9-1 in Wild Game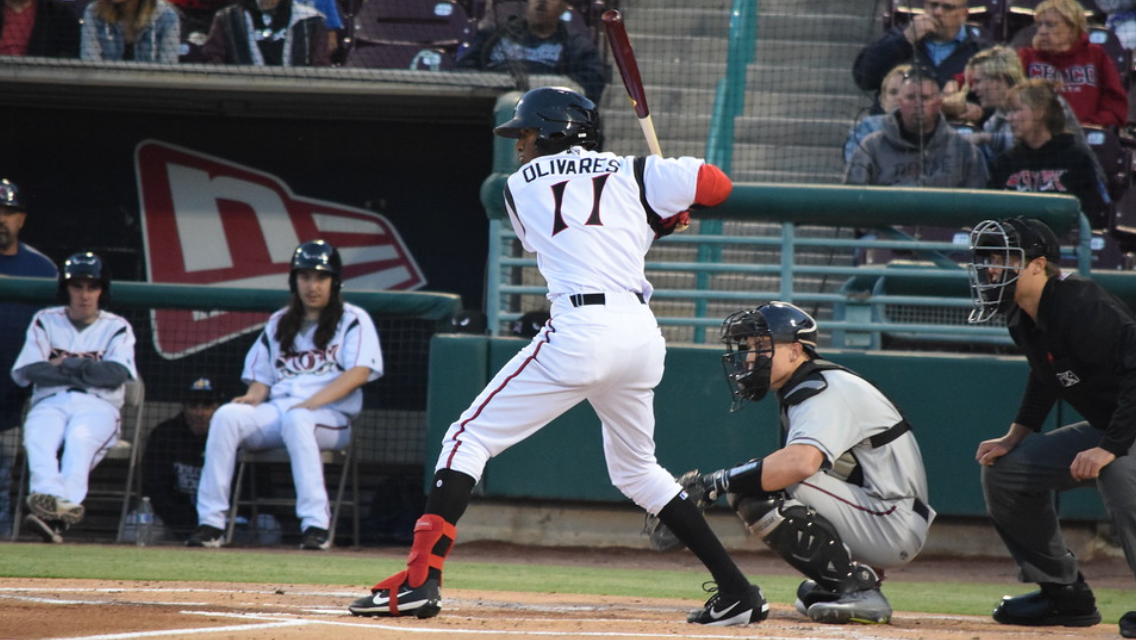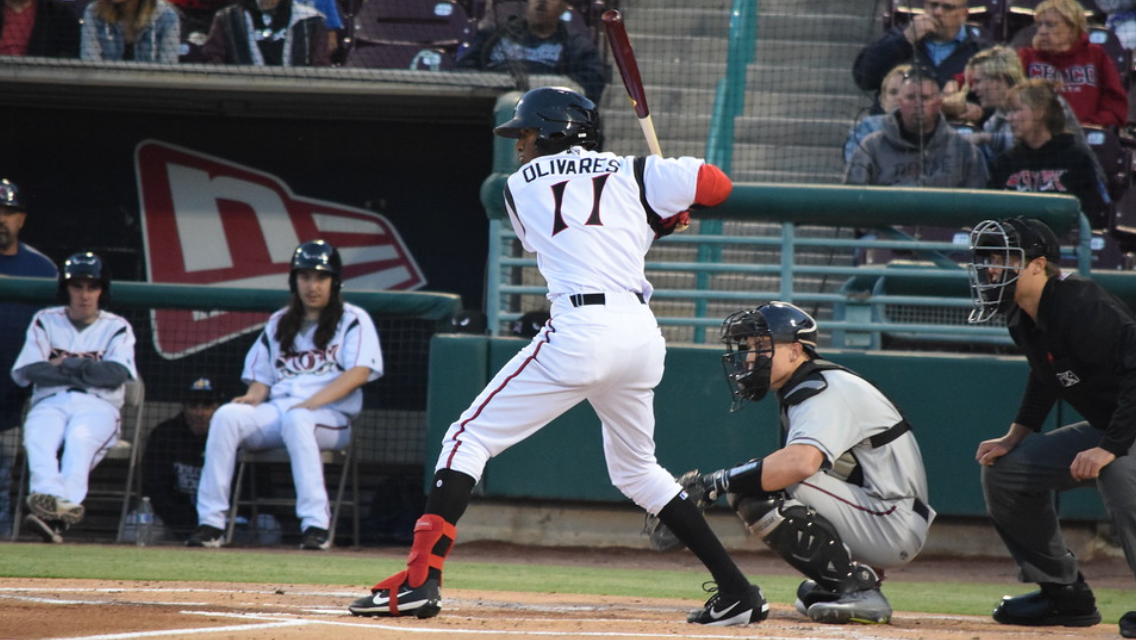 Lake Elsinore, California
After taking a loss last night, the Lake Elsinore Storm rebounded nicely in front of  5,234 fans at The Diamond against the Lancaster Jethawks with a winning score of 9-1. Pedro Avila went seven strong innings while Edward Olivares and Eguy Rosario had four and three hits respectively. Lake Elsinore's offense was on fire, managing 19 hits in total while holding Lancaster to only one run on two hits.
Avila was rolling all day and began his game with a clean first inning, walking Alan Trejo before erasing him on a double play. A five-pitch second inning helped him out and he induced many fly ball outs. Some of those were hit pretty deep and forced the outfielders back, and he was helped out by an excellent diving catch by Edward Olivares, while Buddy Reed showed off his wheels with a running catch on a shallow fly ball.
The offense shined early as Edward Olivares led off the first inning with a long home run to left field. The Storm would get at Jethawk pitcher Logan Longwith again after Ruddy Giron and Kelvin Melean were driven in on a base hit to right field by Taylor Kohlwey. The Storm were helped by some errant throws by the Jethawks, as, with the ball skipping around the infield, the Storm would run free around the basepaths.
More runs would come on a string of base hits by Buddy Reed, Hudson Potts, and Brad Zunica. An error by third baseman Tyler Nevin allowed Reed to score and a base hit by Eguy Rosario added another RBI before Melean bounced into a double play.
Some on-field drama occurred as second baseman Max George didn't take kindly to Rosario's hard slide to attempt to break up the double play and the two exchanged vocal pleasantries as teammates emptied the benches, but no punches were thrown and the argument was over before it began.
The bottom of the fifth inning saw some more on-field highlights. With Rosario up to bat, Longwith fired a pitch right past him. After the previous encounter with Rosario, Longwith was quickly tossed out of the game with little hesitation and replaced with a reliever, with Rosario promptly clubbing a double soon after.
The Storm continued to pad their lead with three more RBI, two coming from the bat of Rosario and one on an RBI single by Marcus Greene Jr. Lake Elsinore hoped to keep the shutout in the ninth inning, but a deep, two-out home run by Roberto Ramos dashed those hopes. A little bit more jawing would occur as Greene Jr took particular exception to Ramos' slow trot out of the box after hitting his home run, but it was settled peacefully by the umpires and Trevor Magil would strike out Nevin to end the game.
Notes from the game
Edward Olivares had a game to remember tonight. He was solid at the plate, going 4-5 with a home run and three singles. Olivares had a good plate approach, showing patience while waiting for the perfect pitch to hit. He led off for the Storm and showed potential if he ever makes it to the big leagues. His defense was outstanding as he made several plays look easy, including a diving catch in the second inning and a long running catch. He has the potential to roam the fields of Petco Park someday, but he will have to fight his way there along with the other Padres outfielders
Pedro Avila was absolutely dealing in his start. After going four and two-thirds innings in his last start, he carried a no-hitter into the fifth inning and generated four strikeouts. He threw 51 of his 82 pitches for strikes and consistently sat 91-93 MPH with his fastball while topping out at 94. However, the contact he did generate mainly went up in the air, with his defense making several strong plays to help him out. He went seven strong innings and his attitude showed that he could've gone one more inning, but manager Edwin Rodriguez would rather save the innings for the young pitchers.
Eguy Rosario had a great night as well, as he went 3-4 with a long double and a two-RBI single. Rosario looked very complete at the plate today and showed great patience while working the count to his favor. He looked solid on the field in the few plays in which he was involved, while showing some grit making a hard slide into second base to attempt to break up a double play. Rosario is an underrated Padres prospect that fans should keep tabs on throughout the season.
Total Views: 302 ,
(Visited 280 times, 1 visits today)