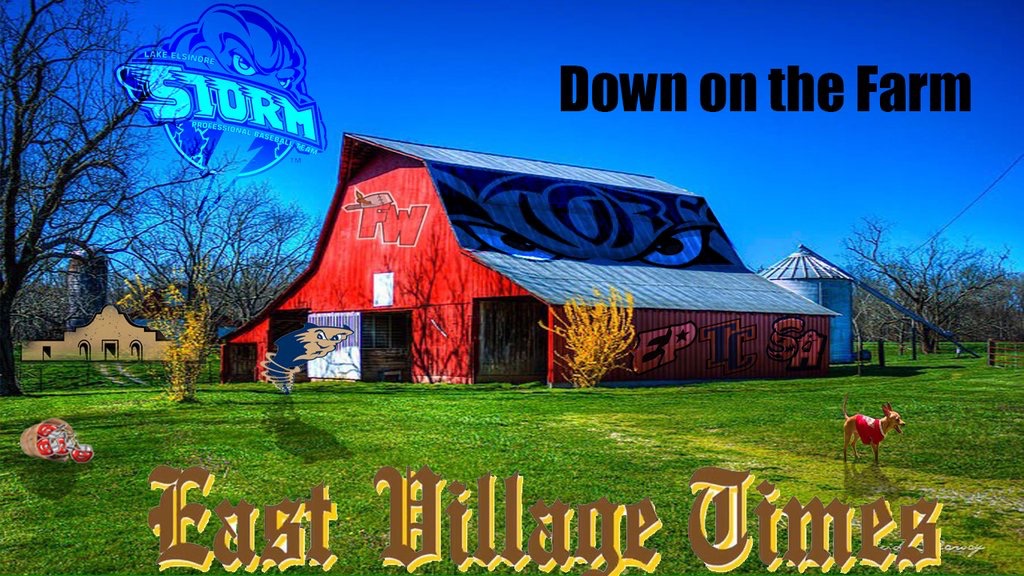 San Diego Padres affiliates were 4-2 on the day. The Lake Elsinore Storm game was postponed due to weather and Tri-City had an off night.
The El Paso Chihuahuas got a great start from Bryan Rodriguez, as he threw a complete game shutout against the Round Rock Express. The 26-year-old right handed pitcher from the Dominican Republic failed to walk a batter in his best start of the year. Rafael Ortega and Chase d'Arnaud both recorded two hits and Christian Villanueva drove in a run for El Paso as they were victorious 4-0.
In San Antonio, Eric Lauer was uncharacteristically wild walking five batters in five innings. He was not getting help from the home plate umpire and was often just out of the strike zone with his pitches. Lauer survived the walks by only allowing two hits in his 81 pitches thrown. The improved start was certainly good to see from the lefty as he adjusts to life in the Texas League. As usual, the Missions' bullpen was dominant as Eric Yardley, Brad Wieck and Trey Wingenter all did their job in the 7-3 victory.
The Storm game was postponed and will be made up on Wednesday, The double header will begin at 4 pm local time.
Pedro Avila threw a quality start for the TinCaps, as they won 6-1 over the Dayton Dragons. The right handed pitcher obtained from the Nationals for Derek Norris, has improved of late in the TinCaps' rotation. Brad Zunica had a two-run single in the third for Fort Wane and Jorge Ona went 2-4 with a steal and two runs scored. Fernando Tatis Jr. also recorded his 27th stolen base of the season. His speed was always listed as his worst tool, and that gives you an idea of the potential of this young man.
The AZL Padres team won 1-0 as five pitchers combined on a complete game shutout. Caleb Boushley started the game and went two innings. He was followed by Dalton Erb, Jose Cabrera, Spencer Kullman and Jonathan Guzman for the Padres. The offense only managed three hits as a triple by Dayon Olmo and an RBI by Jeisson Rosario was the difference in the game.
The other team, the AZL Padres 2 lost 9-5. Omar Fernandez was roughed up in his 2.2 innings and Jake Smith and Jaimito Lebron were also knocked around a bit. Offensively the Padres got two hits from Hunter Jarmon, Juan Fernandez and Nick Feight. Gabriel Arias was 0-5 with two strike outs on the night batting lead off.
The DSL Padres lost 10-4 as the team struck out 14 times on the day. The pitching staff was also victimized as Luis Eusebio, Daniel De La Cruz and Diego Medina all gave up multiple runs on the day. Jorge Guerra did throw 1.1 scoreless innings for the Padres.
El Paso Chihuahuas (Won 4-0) 53-57 Overall
Bryan Rodriguez 9 IP, 5 H, 0 ER, 3 K
Rafael Ortega (2-5) 2b, Run
Chase d'Arnaud (2-4) 3 RBI, BB, Run
San Antonio Missions (Won 7-3) 64-45 Overall
Eric Lauer 5 IP, 2 H, 5 BB, 2 K
Alberth Martinez (3-3) HR, 2b, 3 RBI, Run
Franmil Reyes (0-1) RBI, Run, 2 BB
Lake Elsinore Storm
Postponed
Fort Wayne TinCaps (Won 6-1) 51-57 Overall
Pedro Avila 6.2 IP, 5 H, 1 ER, 1 BB, 7 K
Jorge Ona (2-4) 2 Runs, SB
Fernando Tatis Jr. (1-4) 2b, Run, SB
Tri-City Dust Devils
Off
AZL Padres (Won 1-0) 16-14 Overall

Dayon Olmo (1-3) 3b, Run
Jeisson Rosario (1-3) RBI
Jonny Homza (1-2)
AZL Padres 2
Nick Feight (2-4) Run
Juan Fernandez (2-4) Run
Hunter Jarmon (2-4) Run, 3b, 2 RBI, SB
DSL Padres (Lost 10-4) 16-28 Overall
Luis Guzman (2-4)
Elvis Sabala (1-3) 2 Runs, 2 BB
Adrian Antunez (3-5) Run, RBI
Total Views: 282 ,
(Visited 231 times, 1 visits today)