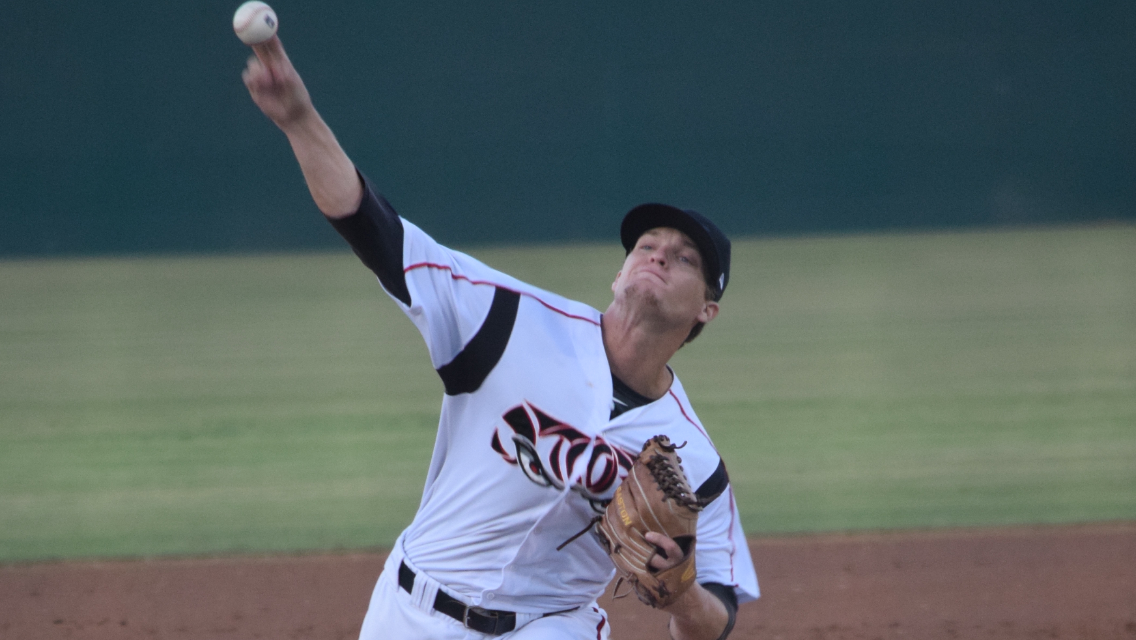 Friday night's Storm game saw the professional debut of Padres 2017 ninth round draft pick Alex Cunningham.
The right-handed pitcher was drafted out of Coastal Carolina University where he was 7-2 with a 2.63 ERA this year. He held opponents to a .195 batting average and struck out 117 batters in 106 innings there.
It was a little surprising that Cunningham would be sent to Lake Elsinore to make his debut especially considering how loaded the pitching rotation is for the Storm.  Both Cal Quantrill and Eric Lauer who were first round picks in 2016 and drafted out of college had starts in the AZL Rookie League and at Tri-City (single A short season) and Fort Wayne (single A) before being promoted to Lake Elsinore.
The game started off well enough for Cunningham as he was able to strike out the first batter he faced. The next two batters each doubled, one down the right field line and the other down the left field line. These two hits lead to the game's first run. Cunningham was then able to retire the next two batters on strikes giving him three strikeouts in his first professional inning.
The Storm bats came out hot with each of the first five batters reaching base including a home run by Storm first baseman Josh Naylor over the right field wall. Edwin Moreno stayed hot driving in Michael Gettys with a single to center. After a coaching visit to the mound the 66er's were able to retire the next three Storm hitters in order.
With a 4-1 lead, the Storm appeared to have given Cunningham a little cushion. That three run lead would however disappear quickly. The 66er's would score three runs on three hits, two sacrifice bunts and a throwing error by Cunningham.
The third inning would start much like the second with the first two batters reaching base. Storm manager Edwin Rodriguez decided to bring in reliever Thomas Dorminy. He was able to get Inland Empire All-Star Jose Rojas to ground in to a double play and strike out Brendon Sanger.
The game would stay tied until the bottom of the fifth when Boomer White singled, Taylor Kohlwey worked a walk and Josh Naylor lined an RBI single to right field. Kohlwey would then get called out at home on a come backer off the bat of Gettys. Kohlwey was able to stay in the rundown long enough for Gettys to get to second. Edwin Moreno would then reach on a soft ground ball to first baseman Matt Thaiss driving in Naylor and giving the Storm a two run lead.  With Gettys at third, Moreno at first and Javier Guerra at the plate, Moreno attempted a delayed steal of second. On the subsequent throw from the catcher to the shortstop Gettys attempted a steal of home where he was tagged out by 66er's catcher Taylor Ward with an assist by shortstop Jake Yacinich.
Dorminy would continue to hold the 66er's off the scoreboard pitching five innings, giving up one hit and striking out six. He would be replaced in the eighth inning by Zech Lemond who has really reinvented himself this season in the reliever role. Coming in to this game he had pitched 39.2 innings with 42 strikeouts and only five walks. This would not be one of his better outings. He would give up a Hit by pitch, a walk and three singles before being replaced by Trevor Frank. By the end of the eighth inning the 66er's will score five runs and lead 9-6. This would prove to be enough as the Storm could not muster any more offense.
Although the debut of Alex Cunningham did not go as he planned, there were some highlights. In his two innings he struck out four batters while walking only one. I look for him to learn and grow from this experience. As for the rough outing for Lemond, I am confident he will bounce back and continue the nice season he has had in the bullpen.
Total Views: 325 ,
(Visited 249 times, 1 visits today)