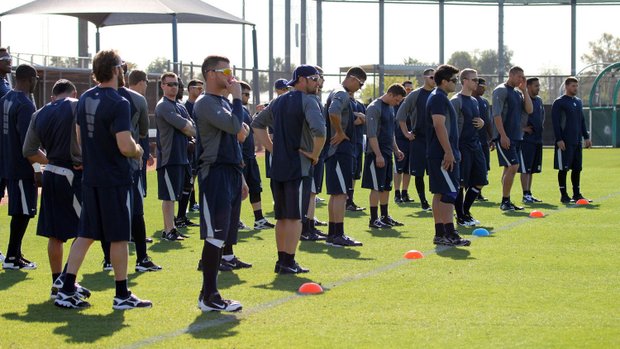 The San Diego Padres' future really depends on how well the minor league system flourishes.
Groundwork has been laid for the team to have success for a long time, but that all is based on the hope that their young farm system provides ample talent to compete. Recently, Peter Seidler was on local radio and proclaimed that the team will not delve into big-time free agency in the future.
That really comes as no surprise, as the team has earned the bad reputation they have with potential free agents. Look at what happened with James Shields. He was inked to the richest free agent deal in club history, only to be ridiculed by ownership and traded away. Of course his production lacked as a Padre, but players take notice of things like this and the club will definitely have a hard time attracting top-tier talent.
With success will come the attraction to outside players. I am positive that if this franchise can turn itself into a productive unit, then the free agents will start to trickle in. It will take time and the team is wise not to base their future plans on bringing in outside talent.
The San Diego Padres are attempting to cultivate a winning tradition for this franchise that has been traditionally a dumpster fire. There is no way to sugarcoat that. The team has been horrible and the front office has made mistakes detrimental to the success of this franchise. They are getting better, as this new regime seems hellbent on becoming a successful baseball club.
In this piece, I will highlight some of the key players that have made real progress at each minor league affiliate (not including the AZL or DSL).
In reality, not every player in the system has progressed, and there are some disappointments. However, as a whole, this unit has made great strides and the coaching staff deserves praise for their efforts. The San Diego Padres are well on their way to becoming relevant, and here are some of the players that are making it happen. I'll give you a little on their progression and when you can possibly expect to see them sniffing the major leagues.
Fort Wayne TinCaps
Fernando Tatis Jr.
Eventually, this man will be #1 on all the Padres' top prospects list. Every time you see him play, he does one more thing that impresses you. He is no finished product yet by any stretch of the imagination, but he has amazing tools in every aspect of the game, and he is just 18. A .274/.360/.466 batting line is decent enough, but he has struck out 90 times in 296 at bats this year. The off-speed pitch is troubling him and he needs to recognize it better and make the proper adjustments for growth.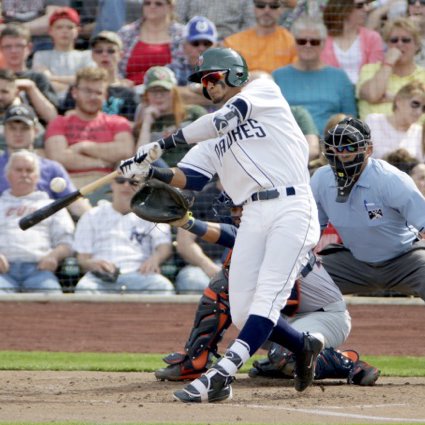 There is plenty of time for Tatis. He will probably need at least two full seasons in the minors, so the Padres are in no rush to send him to Lake Elsinore. Besides, Javier Guerra is not ready to be bumped up, and that would probably be needed for Tatis to head West. Guerra is playing better, so perhaps the promotions for both players could happen before the season ends, but that is a long shot. Tatis in Petco late 2019 would be the best case scenario for the team, and that would only be if he is ready to make the jump. A lot has to break right for this young man, but the ceiling is incredible.
The 20-year-old lefty has been very patient, but finally earned his promotion to Lake Elsinore. He was dominant in Fort Wayne in 2017, going 5-4 with a 2.11 ERA in 13 starts. He struck out 85 batters in 68 innings and was long overdue for a promotion. Being that Allen is 20, it made him the odd man out for the California League to start the season. Players like Cal Quantrill, Joey Lucchesi, Jerry Keel, Eric Lauer, and Jesse Scholtens were elder pitchers that were performing well enough to earn the honors of starting in Lake Elsinore.
The young southpaw took the time in Indiana to refine his third pitch, a change up, that he described to me a split-change. That third pitch, mixed with his solid curve and high velocity fastball, provided him the ability to get batters out the third time through a lineup this year in Fort Wayne. Allen has shown above-average demeanor on the mound and should progress through the system fairly fast. The Padres will slowly bump up his pitches per game and overall innings to prepare him for the rigors of a full major league season. Expect to see Allen somewhere around the 2019 season, but a lot of that has to do with opportunity. There are so many young pitchers in the Padres' system currently that could be very relevant players, and that will affect the young hurler.
I really enjoy watching this young man pitch. He has easy gas and a smooth, repeatable motion, despite being a large-framed pitcher. He is only 19 and already easily reaching the mid 90's with the velocity on his heater. As he gets bigger and starts to thicken out, expect to see him in the high 90's with ease. Thompson is presently in Fort Wayne, where he had a little bit of an elbow concern recently. He missed a few weeks, but returned last week and looked like his dominant self on the rubber. The team will take it easy with him, as he is coming off Tommy John surgery his senior year in high school.
Thompson has made it through 15 innings this year, striking out 19 batters. His progression is low, but well worth noting, as he was a steal with the 85th selection in the draft. The Padres wrestled him away from his commitment to the University of Texas by paying him well over slot value. Thompson is at least two years from pitching in Double-A and above. The Padres just need healthy starts from him at this point. They will not rush him as he is not expected to contribute til 2020 at the very earliest.
Lake Elsinore Storm
The 22-year-old Lauer was recently promoted to Double-A, after just tearing up the California League to begin the 2017 season. He went 2-5 in Lake Elsinore, but recorded a 2.79 ERA and 1.24 WHIP in a notorious hitters' league. The left-handed pitcher from Kent State struck out 84 batters in 67 innings and 12 starts. How did he respond to his promotion to San Antonio? Well he threw 7.2 shutout innings, striking out nine batters and failing to walk anyone. His stuff plays to any level. His progression is no joke.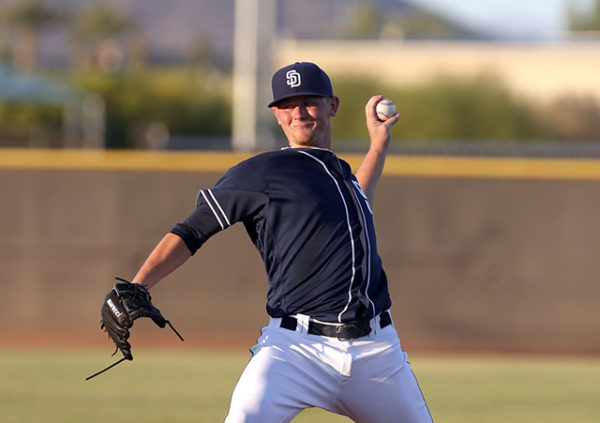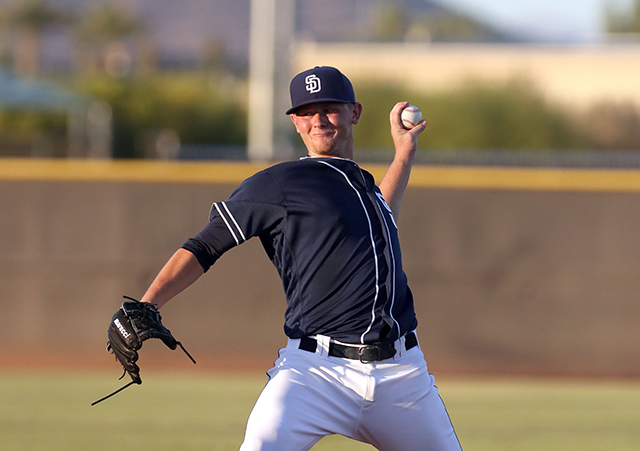 With a few more impressive starts, the Padres will consider moving him to the next level. Lauer needs to work on his pickoff move and his ability to hold base runners on. There are also some slight mechanical issues, but all in all, he is almost ready. It should not take long for him to make it to Petco. If everything breaks correctly, he could get a September start, but the team will not throw him out there just to do it. No matter what, you have to figure he will be knocking on the door next year at some point. Whether that is during the spring or during the all-star break is up to young Lauer. But do not bet against him. He believes he is ready now for major league service time.
Just after Lauer got the call, Joey Fuego was summoned to Double-A as well. His start in Texas did not begin as well as Lauer's did, but the lefty does have some very decent stuff. He has progressed well this season. In fact, at one point earlier this year, he was outpitching Lauer, Quantrill, and company in Lake Elsinore. His herky-jerky motion is tough for hitters, but some question if he will have the same effectiveness as more video is seen of him and more at bats are recorded. His late-moving fastball plays well either way, and he should be able to advance through the system.
Though Lucchesi had a little trouble in his debut, he should be able to succeed at the Double-A level. He is 24 and possesses a low to mid 90's MPH fastball with two advanced breaking pitches. Luchessi has great size at 6′ 5″ and 210 lbs, and comes with a great work ethic. The young lefty could blossom even more and be a factor at some point next season. He has been very durable in his pitching career and that also bodes well for his future with the team.
The Padres #1 pick in 2016 (eight overall) is certainly progressing from his past arm issues. There have been zero setbacks from this right-handed pitcher, and he has been able to go full speed through his normal motions in preparing for a season. There are rumors that a call-up to Double-A is in the works and that certainly seems inevitable at this point. Quantrill will get the call or promotion eventually, and seeing him in Double-A will certainly be exciting.
The fact he has reported no arm issues means that he is on pace to progress through the system with Eric Lauer. He has gone 6-5 in Lake Elsinore with a 3.67 ERA in 14 starts and 73 innings pitched. Quantrill has struck out 76 in that time and has looked stronger as the season has progressed. If you ask him, he wants to pitch at Petco this season. However, there is no rush, and he will likely be brought along slowly towards the end of this season. I do not think the team will push him very much as he approaches the 120-140 innings mark for the season. A 2019 showing is not out of the question, nor is an appearance later this summer. He has that type of ability.
PAGE 2 LINK BELOW
Total Views: 1474 ,
(Visited 2,083 times, 1 visits today)