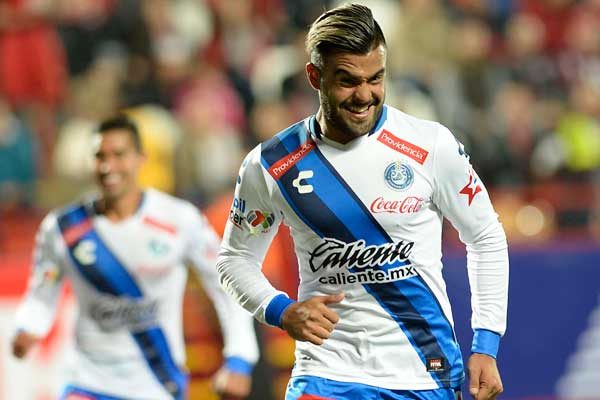 Eduardo Coudet was not very busy picking up players at the Liga MX Draft. Most of the players the Argentine brought into the border city were role players to add depth to the squad.
Coudet must now go to the international market to try to replace the key players that Tijuana lost in the draft.
There are currently three players that already have a foot in the door with the Tijuana Xolos.
Here is a rundown of those players and what they can add to the team.
Alexis Canelo
The signing of the Argentine striker was announced during the final hours of the draft, but then was quickly discarded. Xolos' president, Jorge Alberto Hank, cleared up the situation and said that the club reached an agreement with Canelo's club, Chiapas, but have failed to reach an agreement with the player and his agent. The Xolos could still reach an agreement with Alexis Canelo that would really bolster the attack for the Xolos. The Argentine played with Puebla in the Clausura 2017 and had a breakout season, scoring four goals and getting four assists. Canelo displayed his impressive attributes throughout the tournament, showing great pace and phenomenal vision and passing ability. Canelo will be an exciting player that will add a lot of flair and skill to the squad.
Damian Musto
The Xolos clearly need a replacement for Guido Rodriguez in the heart of the midfield. No player on the current roster has capabilities that are close to Rodriguez and there are few players in the Liga MX that can offer that quality of play. Eduardo Coudet is close to signing Damian Musto, who he managed at Rosario Central in Argentina. Musto plays the same position as Rodriguez and could be a decent replacement for him. Musto is much older than Rodriguez at 30 years old and does not offer the same physical presence at 5-foot-11. Coudet is familiar with the player, so he must know his work ethic and clearly sees him as a worthy candidate for that defensive midfield role.
Gustavo Bou
Bou would be the star signing for the Xolos this off-season. Eduardo Coudet has shown heavy interest in the striker and he is practically already with the border city side. The Argentine striker has had a tremendous season in Argentina with Racing Club, netting 10 goals and being one of the more potent strikers in the league. Bou would be a direct replacement for Milton Caraglio, being a formidable target man, but with much more mobility than the former Xolos' striker. The Argentine press is already declaring this move as official. Even the Racing Club president has confirmed that Bou is on his way to Tijuana once the Argentine Primera Division season is over. It is unclear how the striker will adapt to the intense play in the Liga MX, but Eduardo Coudet may have found a gem in Gustavo Bou.
Total Views: 235 ,
(Visited 133 times, 1 visits today)