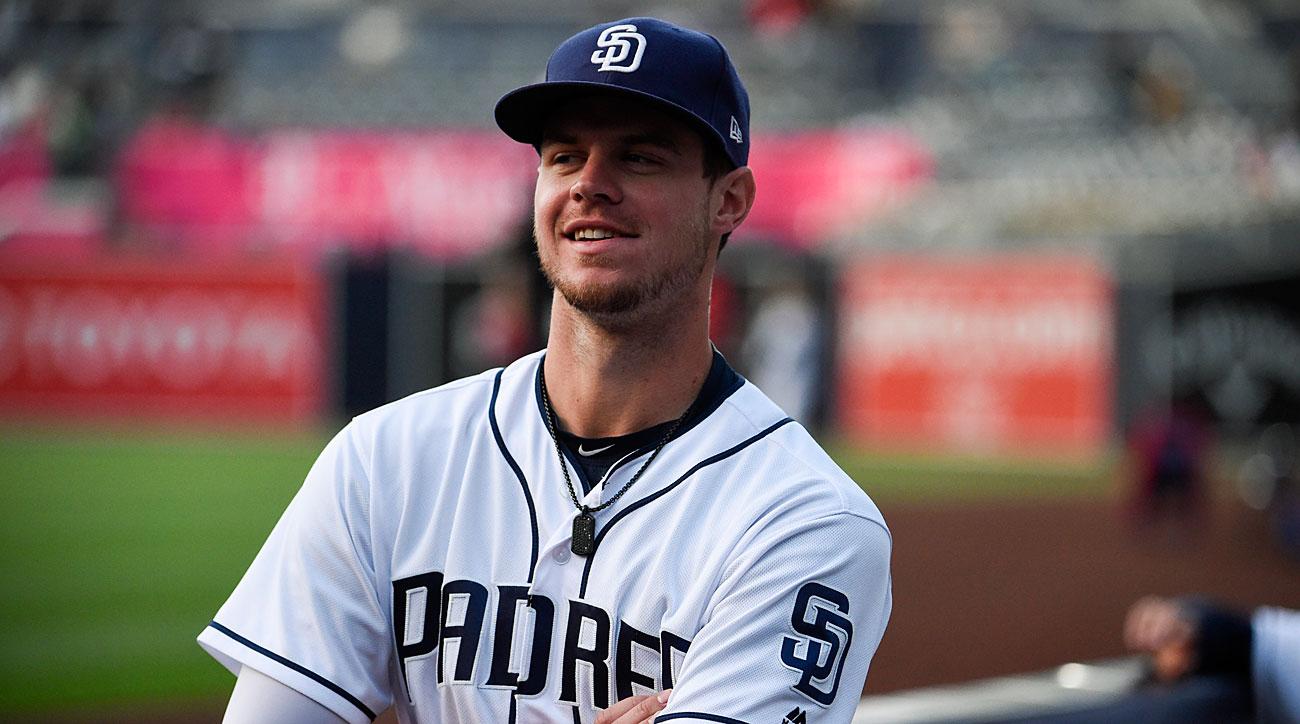 In the midst of the Padres' prospect paradise stands a 26-year-old "veteran," under the stadium spotlight since age 22. Between all the conversations about volatility and inconsistency surrounding him, he has shown us exactly what to expect from him – an average of around .260, an OPS of around .800, and counting stats that in a healthy year should have no problem surpassing twenty homers, eighty runs, and eighty runs batted in.
In January, the Padres signed Wil Myers to a six-year, $83 million extension, keeping the swinging Friar in America's Finest City through at least the 2022 season. Local fans celebrated – the contract was the largest in team history, and signaled a real belief in the rebuild to come. This would be our hardball hero, the man we would point to in applause as we lifted a world championship over our heads.
The ink wasn't even dry, and optimism was already accelerating out of control.
Fast forward to the present day, and more and more fans have reversed course, pointing to his developing swing-and-miss potential and lackluster approach as justification for shaking heads and, at the worst of times, trade talks. The problem, though, is that these criticisms are largely unfounded by anything Myers has done on the field in 2017.
To start, take a look at his basic batting lines over the last three years. In 2015, his first in a Friars uniform, Myers swung his way to a .253/.336/.423 while battling bone spurs in his left wrist (keep in mind, this is the one used for power in the swing) that caused him to miss over 100 games. Then, in 2016, Myers "broke out," rising all the way to .259/.336/.461. This year, his performance has "fallen off," dropping all the way to .260/.330/.473 going into today.
As seen below, advanced stats paint a similar picture:
| | | | |
| --- | --- | --- | --- |
| Stat | 2015 | 2016 | 2017 |
| Walk Rate (BB%) | 10.7 | 10.1 | 9.1 |
| Strikeout Rate (K%) | 21.7 | 23.7 | 29.4 |
| Isolated Power (ISO) | 0.173 | 0.202 | 0.213 |
| wOBA | 0.334 | 0.341 | 0.340 |
| wRC+ | 115 | 115 | 111 |
For a player whose biggest detractors point to his volatility, Myers' end-of-year stats appear remarkably consistent, and in a year where he is supposedly disappointing a fan base, he remains on pace to match his gaudy 2016 totals. The most variance (if you could call it that) has come from his slugging numbers, an uptick easily explained by now-healthy limbs and a potential selling-out for more power at the expense of contact.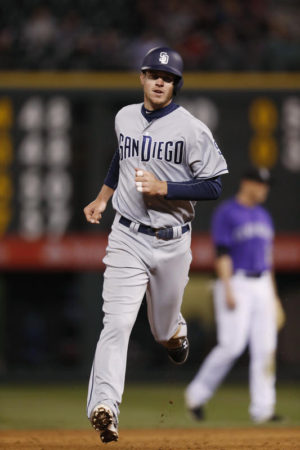 On defense, Myers' ability has been more deservedly criticized this season. Advanced metrics point to a player at the bottom of the league in terms of both defensive runs saved (currently -3) and Ultimate Zone Rating (a paltry -4.7). The sample size for this year, however, is too small to draw meaningful conclusions from the defensive data, and as such the eye test needs to remain the barometer. That eye test, as evidenced by the lunging play he made last night on a hot shot from Justin Upton, proves that Myers' athleticism and mobility remains, and it wouldn't surprise me at all if at the end of the year he had returned to being at least league-average with glove.
So why are we disappointed again?
There can only be one reason: As a fan base, we have set the bar too high for Mr. Myers.
The Friar Faithful have craved something to applaud for more than ten years now, since the last time the organization won a division title. That team had Jake Peavy, Trevor Hoffman, and Adrian Gonzalez. Since then, though, the clubhouse doors have become a turnstile for no-names and also-rans.
After a breakout 2016 that was, more than anything, a result of simply being healthy for the first time in a long time, and on the back of years of being one of the league's top prospects, Wil Myers had appeared to be the next man in line for the city to truly embrace.
We shouldn't let that go.
Could his ceiling eventually rival those of fellow young stars Harper, Trout, Bryant, and Machado? No, probably not. But those players will also garner contracts meant to smash league records, not ones that will pay an average of just under $14 million annually through the prime of their careers.
Signing Myers as the face of the rebuilding Friars does not mean he needs to approach the numbers of those superstars in order to provide a positive value. He is only meant to be an established talent with enough youth and experience (yes, those can sometimes come in the same package) to lead the baby-faced talents of tomorrow.
Expectations are great, but great expectations can be harmful. Allow Myers to be exactly what he has proven himself to be, and enjoy the part he is meant to play – a middle-of-the-order bat with enough athleticism to contribute with the glove – as the Padres push for playoff races to come.
Wil Myers is no superstar.
But you're allowed to love him anyway.
Total Views: 388 ,
(Visited 220 times, 1 visits today)