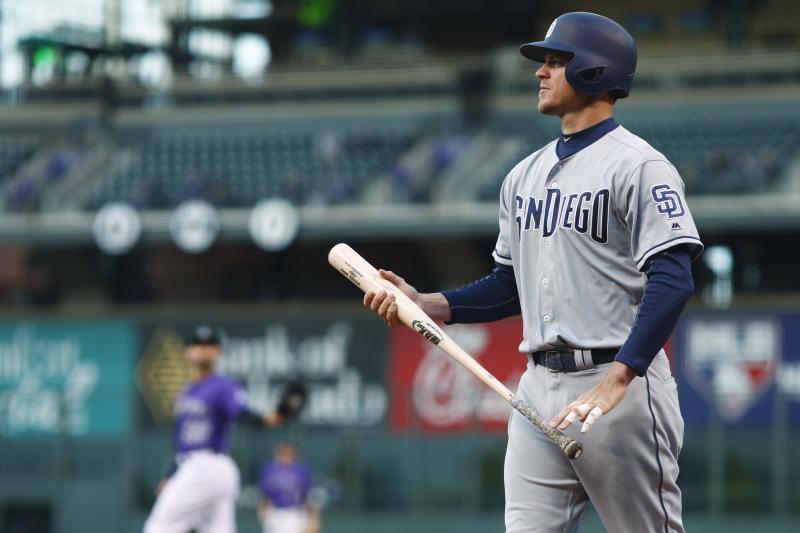 It's June 17th. The 2017 MLB Draft has come and gone. MacKenzie Gore is now a San Diego Padre.
With the draft in the rear view, all eyes are on MLB All-Star voting. There's exactly 25 days until the best players in baseball take the field in Miami. As the current voting stands, there is no Padre anywhere close to being a top vote-getter. With how the Padres have performed to this point in the season, that is to be expected.
But this begs the question: Do the Padres deserve an All-Star? Given where the Padres stand, it's hard to answer that question with a yes.
Going into the season, Wil Myers, Yangervis Solarte, and Brad Hand were the likeliest All Star representatives. Now that the game is less than a month away, the only guy who has a somewhat decent case is Brad Hand. The other two guys have been nowhere near All-Star level over the first two and a half months of the season.
In order to try to find a Padres All-Star representative, let's go position by position in the hopes of finding a Padres player worthy of the 2017 MLB All-Star Game.
Catcher
Among catchers with at least 200 plate appearances in the National League, Austin Hedges currently ranks fourth in total fWAR and fifth in Wrc+. If we're just picking the three most valuable players by either fWAR or wRC+, Buster Posey, J.T. Realmuto, and Yasmani Grandal are the likeliest options, with Hedges and Matt Wieters as the fourth best options. So no dice here.
First Base
One year removed from a hometown All-Star appearance, Wil Myers could not be any further from a repeat appearance. Among qualified National League first basemen, Myers ranks 11th in terms of fWAR, falling behind even rookie Josh Bell of the Pittsburgh Pirates. Myers looks slightly better by wRC+, but he still sits at number 10. With Paul Goldschmidt and Ryan Zimmerman having amazing seasons, it's hard to imagine Myers crawling over that many other first basemen. So that's not going to happen again.
Second Base
Not to be outdone by Wil Myers, Yangervis Solarte also ranks 11th among second baseman by fWAR and 7th by wRC+. There might be a better chance for Solarte given the lack of real noteworthy talent ahead of him, but it still seems like a long shot.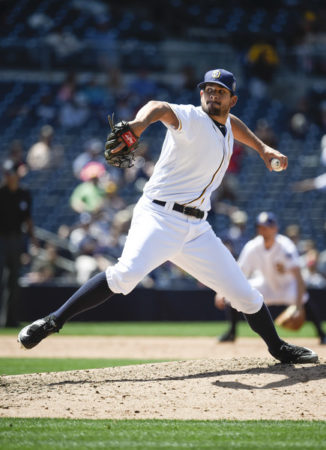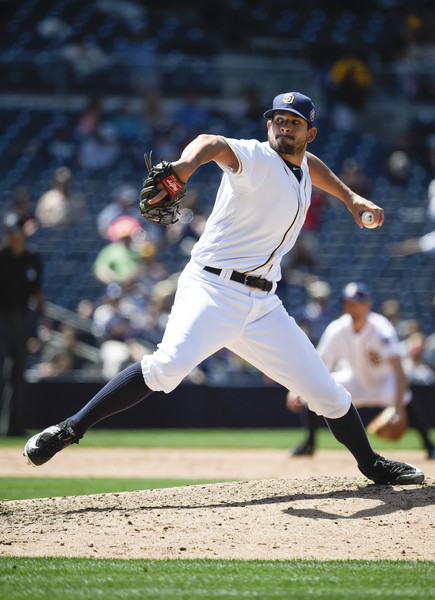 Shortstop
Among players with at least 150 plate appearance at shortstop, Aybar has only been better than the New York Mets duo of Asdrubal Cabrera and Jose Reyes by fWAR. In terms of wRC+, Aybar is second to last, ahead of only Reyes. Moving on.
Third Base
Cory Spangenberg is 13th in fWAR and 14th in wRC+. Behind Kris Bryant, Justin Turner, Jake Lamb, Nolan Arenado, and on and on. That's not happening.
Left Field
The Padres don't even have any qualified player in left field given how much they have been rotating players in and out. Franchy, Franchy, Franchy. Pirela, Pirela, Pirela. Just kidding.
Center Field
I guess Manuel Margot had a chance here until he got hurt. But that's not happening either.
Right Field
Maybe we're getting somewhere. Hunter Renfroe ranks 15th in fWAR and 13th in wRC+. At least he is third in home runs? Never mind.
Starting Rotation
By starting pitcher fWAR, Clayton Richard (13th) and Jhoulys Chacin (27th) are both in the top-30 of all National League pitchers. By FIP, Richard is 15th while Chacin is still 27th. Despite being fairly solid this season, it's hard to imagine Clayton Richard being named to an All-Star team. But why the heck not?
Bullpen
By fWAR, Brad Hand (22nd) is one of two Padres relievers in the top-30. The other one is Brandon Maurer (15th), who has very quietly put together a solid season. By FIP, Maurer is 15th while Hand falls to 28th. The National League reliever ranks are rather deep, but maybe one of these two could find their way in.
---
So in sum, it seems like this may have been a fruitless endeavor. Outside of an unlikely MLB All-Star Game appearance for Clayton Richard, it appears that Brad Hand and Brandon Maurer have the best chance of being all-stars in the 2017 All-Star Game. However, realistically, no Padre player is truly deserving of an all-star nod. But that's just the nature of being a rebuilding team I suppose.
Total Views: 363 ,
(Visited 349 times, 1 visits today)