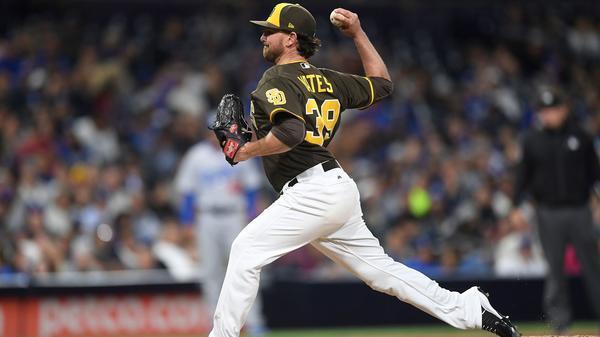 Coming into the 2017 season, the bullpen was set to be the best asset of the San Diego Padres.
However, throughout the season, the relief corps has massively struggled, with one of its biggest assets, Brandon Maurer, having a hard time keeping his head above water. In fact, in the last few weeks, his ERA has ballooned to 6.88. Even though this will ultimately come down since his FIP is 2.54 and his BABIP is .395, both explained in a previous article here at East Village Times, there are still concerns surrounding him and the rest of the 'pen.
The biggest problem is their inability to strand baserunners. Only Brad Hand, the most consistent relief arm at Green's disposal, and Kirby Yates, the newcomer, have posted above-average strand rates, at 88.9% a piece. As a result, the Padres' newest additions, Kirby Yates and Jose Valdez, may provide hope for a turnaround by the pen.
Kirby Yates, a 30-year-old from Lihue, Hawaii, was originally drafted in the 26th round of the 2005 draft by the Boston Red Sox. Instead of signing, he went to Yavapai College in Prescott, Arizona, where Tommy John surgery during his freshman year caused him to lose a spot in the 2008 and 2009 drafts. Yet he was not finished, and the Tampa Bay Rays saw enough potential in him to sign him as an amateur free agent on June 19, 2009.
It wouldn't take long for Yates to make good on that potential, as he finished his first year in the Rays' system with a 2.39 ERA, 1.139 WHIP, and 16.7 K/9 with 49 strikeouts in 26.1 innings pitched. Even though these measures came from a college-level player (who usually starts higher than rookie league when transitioning to pro ball), they are still outstanding. Especially from someone coming off risky surgery on his throwing arm.
In his next six years of minor league baseball, Yates never posted an ERA higher than 3.50 and carried a slightly less, but still spectacular, strikeout rate while also making quality spot starts. He even won a spot on the Triple-A All-Star team. Because of such competitiveness, 2014 would be the year that the native Hawaiian would star in a major league bullpen when he was called up on June 7. It would be his first successful campaign, as he posted a decent 3.75 ERA, 1.33 WHIP, and 10.5 K/9 rate.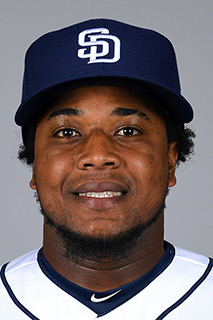 However, his affinity for walking batters and allowing home runs (10 in 20.1 innings) led him to lose traction within the Rays' organization. He would be demoted to the minors with the start of the next season and never gain sufficient ground with the Rays nor the two following clubs who purchased his contract, the Cleveland Indians and the New York Yankees.
After two years of lost seasons, the Los Angeles Angels took a chance on the righty. With Anaheim's Triple-A team, Yates re-emerged as a potential force to be reckoned with. His stats once again fell in line with what he produced in Tampa's organization. As a result, the Angels called him up to face the Blue Jays on April 22.
During the 2016-2017 off-season, Yates improved his training process, replaced his hard-to-command curveball with a biting slider, and was ready for a great season for the first time since he was called up to the majors. His appearance with the Angels looked like his off-season preparations were wasted, to the point where the Angels designated him for assignment the next day, but since being claimed by the Padres on April 26, he has been on fire. By not allowing a run and striking out 10 batters in 8.1 innings, the new Padre has shockingly become one of the most reliable arms manager Andy Green has at his disposal.
While his tendency to walk batters, four with the Padres so far, may spell regression, his strong ability to get the most out of his 93 mph fastball, above-average slider, and weak changeup gives hope that his performance so far is not just luck. In fact, his .292 BABIP means that luck has little to do with his success so far. Thus, Kirby Yates has a bright future on the Padres' team and if he keeps up his current achievement, he could be another trade chip A.J. Preller can use to get young talent.
Likewise, Jose Valdez could be a talented relief option for San Diego. Similar to how Yates has bounced around from team to team during his career, Valdez has seen time with three different organizations now. First signed by the Detroit Tigers out of the Dominican Republic on June 4, 2009, Valdez consistently kept his ERA in the two's, while moving up the minor league ranks. He put up a 0.82 ERA during a 23-game showing in a Rookie League Tigers' jersey, his first time at the level. Like Yates, Valdez has always had the ability to get batters out via the strikeout as evidenced by his consistent ~12 K/9 in the Tigers' system. However, walks have been a huge concern for him, somehow more so than Yates, as Valdez struggled in his attempt to walk less than four hitters per nine innings. This command issue has limited the effectiveness of his closer-like arsenal ever since, starting with the 4.oo BB/9 rate he put up in his first taste in the American League.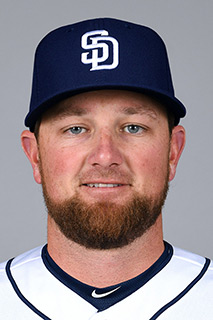 As a result, his earned run average had soared to an extreme enough level for the Tigers to deem him worth only cash considerations from the Angels, a situation familiar to Yates too. When the Dominican reliever started his term in L.A., he immediately found success with their Triple-A farm club. Even though he was still throwing too many balls, his WHIP reached a career low of .935. This efficiency would not last by the time he traveled to L.A. By issuing 16 walks in 23.1 innings in his first call up, Valdez allowed the opposition to earn 11 runs off of him.
His struggles with the Angels lasted until the Padres claimed him off waivers on May 10, 2017. Such a move by Preller could mean that he saw something in him that might translate to MLB dominance. After all, Valdez was among the Angels' top 30 prospects and regarded by scouts as a future closer if he worked on the location of his pitches. Although the Angels' system is never regarded as a quality one, since it isn't, his ranking shows how promising his stuff is. Armed with a 97-98 mph fastball and upper-80s wipeout slider, Valdez can break out. He will surely have struggles, but with Balsley's instruction, he has an opportunity to be a good reliever. On Saturday, it showed. Being at the depressing game on Saturday night, I was able to catch his first appearance as a Padre. He did issue a free pass, but was electric still, by striking out three Diamondbacks. More of that can be in his future. Unlike Yates, if everything does start to click for the Dominican, he could be a long-term piece for the rebuilding club.
With the Padres' bullpen crumbling in the last few weeks, new relievers Kirby Yates and Jose Valdez have taken center stage. While Yates has a better chance of being a useful reliever now, since he has better command, Valdez has a higher ceiling. One which could make him a closer if his control of an elite fastball and plus slider improves. Both are capable of being electric, with the ability to punish the other team with a handful of strikeouts. Overall, the Padres might have recently received quality arms, and another trade piece in Yates, for nothing more than current roster spots.
Total Views: 372 ,
(Visited 330 times, 1 visits today)