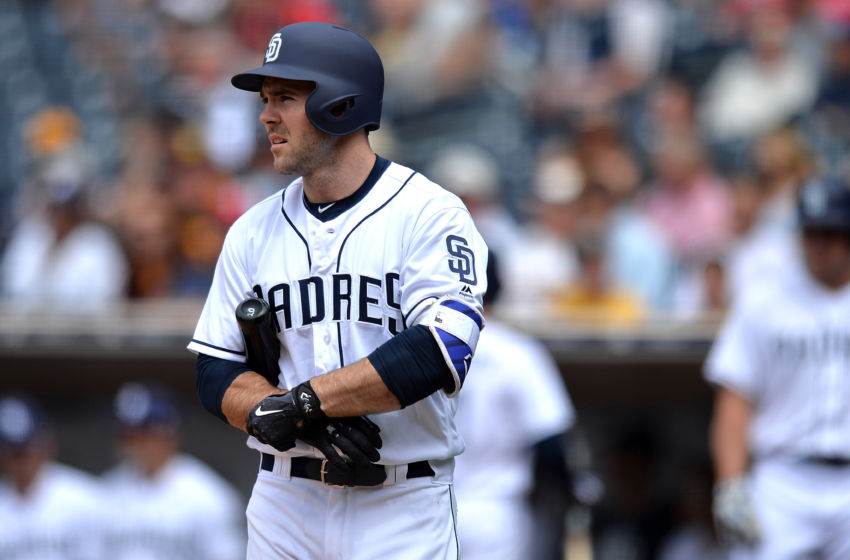 When the San Diego Padres traded for a Chicago Cubs outfielder by the name of Matt Szczur, it looked as if they were trying to win scrabble once again by using a player's last name. They put a solid score in 2015, when they had Marc Rzepczynski and the time was right to rack up another high score.
In the last week, the new Padre has played the part of a solid contributor, much more than the hopeful expectations of a fourth outfielder who could give youngsters Manuel Margot and Hunter Renfroe much-needed rest. The .313 batting average and one home run may seem like a wonderful surprise, but that potential may have always been there.
Originally drafted from the ranks of Pennsylvania's Villanova University in 2010, where he also played football, Szczur immediately had success for the club that drafted him, the Cubs. With solid speed and good contact, the new Cubbie would go on to post a slash line of .347/.414/.465. Although the ability to slug a ball was not in his tool set, the man provides solid value with his bat and is versatile in the field. Playing a mean center field as well as both corner outfield positions, Szczur would start his path onto being rated as the best defensive outfielder in the Triple-A Pacific Coast League season for 2014. After the season, the Villanova graduate improved his prospect status dramatically, as he ascended to seventh place in the race for best Cubs' prospect.
Even though he started hitting for a lower batting average throughout his remaining three years of minor league seasoning, he never hit below .260, a mark which most teams would take gratefully. Especially with the defensive and speed value that comes with the package. If he can ever come close to stealing the 42 bases he did in 2012, to become the 64th best baseball prospect according to Baseball America, he could be more than the fourth outfield-type long predicted of him. However, that didn't happen during his first stint in the majors in 2014, as he stole only two bases and hit a measly .222 in 47 games.
Due to the awful debut Szczur had, the Cubs gave him very little playing time in the following years. Used only as a defensive replacement and pinch runner from 2014-2017, the Cub came to the plate no more than 185 times in a single season. This small sample size of opportunity limited his efficiency when it came to hitting for the solid average and displaying the strong base running he showed off in the minors. Thus, his situation became clear as a fourth outfielder only, with few chances to prove that there was more. With the additions of star-like outfielders such as Kyle Schwarber and Jason Heyward, as well as the solid contributor, Jon Jay, Matt Szczur finally lost all favor with the World Series Champs.
He was designated for assignment on May 6, and the Padres traded relief prospect, Justin Hancock, to get the speedy outfielder. Although Hancock was considered, by some pundits, to be the top starting pitcher after Matt Wisler was traded to the Braves, injuries and a lack of control and command derailed his career. Yet the Cubs wanted to take a chance on him since he had a strong throwing arm, and so the Padres have a new outfielder. The question is: can Matt Szczur be valuable to the Padres?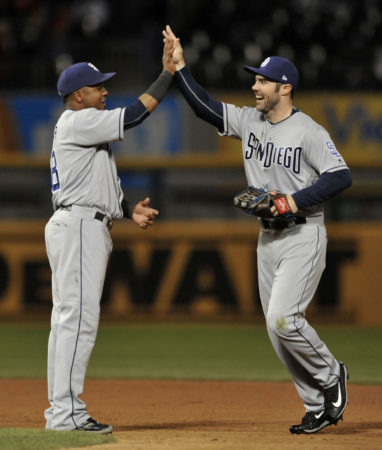 According to his accomplishments in the minors as well as his defensive skill set, Szczur has potential to add value to the team. He has comparable assets to Manuel Margot, a good repertoire on defense, as well as excellent speed. Even though it's hard to imagine Szczur being anywhere near capable of hitting at the rate Margot does, coming close to having that contact-oriented approach would give San Diego another possible starting outfielder during their rebuild. He could rival the struggling Jankowski for playing time, and thus become an interesting trade piece for San Diego. If he has a breakout due to more available playing time, then kudos to A.J. Preller. Otherwise, Szczur has value not attached to his stats as he is a great bench option for a contending team.
By playing, and allowing Margot and Renfroe to rest, the youngsters might take the next step sooner. In fact, Margot, over the weekend, hit an opposite-field home run the night after he took a game off. It wasn't the home run which was impressive so much as the fact that it was driven over the right field fence at Guaranteed Field on a liner.
When first seeing the hit, it looked as if there was no way the ball would give the Dominican' center fielder four bases. The fact that it did, shows that rest may be a much-needed thing for the Padres' rookies.
Also, if Wil Myers ever struggles again, he could use Szczur's bat to break out of the slump a la Anthony Rizzo during the 2016 postseason. At worst, if the newly acquired player doesn't pan out like San Diego hopes, then Szczur will still display good defense and base running, give Margot and Renfroe rest, and provide more time for Jankowski and Dickerson to return to full health. Thus, the Szczur-Hancock trade was a great trade orchestrated by A.J. Preller. The new Padre has potential, while Hancock has a decent chance of not even pitching in the major leagues. Enjoy the Matt Szczur era, Padres' fans.
Total Views: 384 ,
(Visited 247 times, 1 visits today)