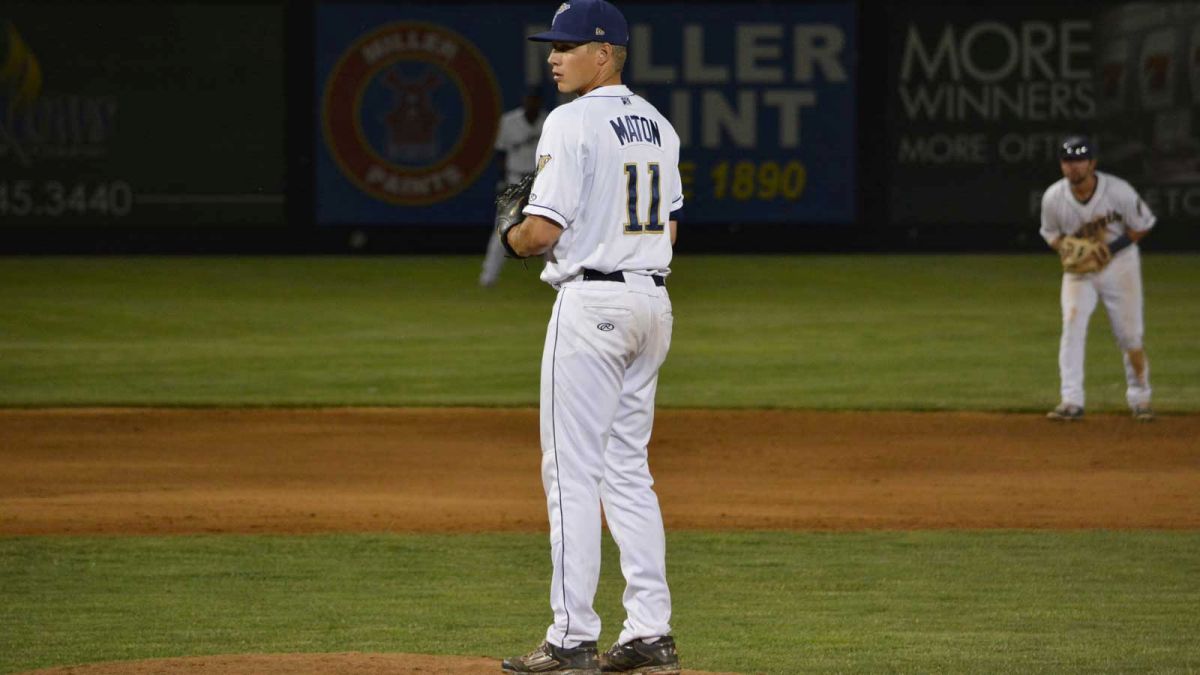 Of all the prospects in a very deep Padres system, there are a few that seem to be ready to make the jump to the big leagues in 2017.
Obviously, 2016 El Paso mainstays Hunter Renfroe, Manuel Margot, Carlos Asuaje, and Austin Hedges all seem to be locks to either start in San Diego or make their way up rather quickly in 2017. After those four, things get a little bit fuzzy.
Jose Torres, a left-hander who the Padres acquired from the Athletics along with Drew Pomeranz, figures to be an effective, hard-throwing MLB LOOGY that will either start the season in El Paso or with the big league squad. Relievers Kyle McGrath, Jason Jester, and starting pitcher Dinelson Lamet also figure to be given chances in spring training to impress and make the Opening Day roster.
Then you have 6'3″ 220 pound Phil Maton, perhaps the most intriguing relief pitcher in the Padres system. Maton was drafted by the Padres 579th overall in the 2015 MLB draft out of Louisiana Tech University.
He started 40 games in his four years at LA Tech. Maton saved his best year for last, as in his senior year he recorded 90 strikeouts in 88 innings (9.2 K/9, best in Conference USA), a 1.94 BB/9, and a 3.68 ERA.  The Padres saw enough to give him a chance in the 20th round, which is all that he wanted.
In an interview with College Baseball Daily before the draft, Maton stated that he just wanted a chance to show his talents in a pro organization:
Is being selected in the MLB Draft something you're hoping for, or is it something that if it happens, it happens?

PM: Being selected in the draft is exactly what I want. Just getting a chance to get in the mix is something I have been shooting for.
Upon being drafted and signed in June of 2015, Maton immediately was sent to the Tri-City Dust Devils to begin his professional career- as a reliever. This transformation led to Maton putting up some ridiculous numbers in limited action. In 32 2/3 innings, Maton struck out 58 hitters en route to a 1.38 ERA. He also walked only five and registered a minuscule 0.86 WHIP and 0.51 FIP. After the conclusion of the season, Maton was recognized by Baseball America, being named as a Baseball America Short-Season All-Star.
Heading into 2016, the Padres pondered whether or not they wanted to transform Maton back into a starting pitcher. They decided against it, and placed Maton in Fort Wayne's bullpen with the TinCaps. It got off to a bit of a rocky start, as on April 9th, Maton was placed on the 7-day DL with tightness in his oblique. This injury caused him to miss about a month of action, as he was activated from the DL on May 10th. Maton showed no signs of the oblique bothering him after his return, though, and he quickly gave the Padres reason for yet another promotion. In only 12.2 innings of work at Fort Wayne, he struck out 19 hitters, walked only one, and put up a 1.42 ERA with a 1.18 WHIP.
On June 6th, Phil Maton was called up to High-A Lake Elsinore, where he spent a large majority of his season. In 33 innings, Maton struck out 47 hitters, only giving up 17 hits and 7 ER. He was dominant, registering a career low in WHIP (0.76).
Needing a spark for their playoff-bound Triple-A club, the Padres front office decided to test out Maton in Triple-A for the rest of the 2016 season. It worked out quite well, as in 6 innings, Maton struck out 12 while only giving up one hit and one run. He also recorded the last out against Triple-A Oklahoma City to win the PCL title for the Chihuahuas.
The right-hander from Paducah, Kentucky concluded his season by pitching in the Arizona Fall League.
It was a really impressive first full year as a professional for Maton, who skyrocketed up the Padres system. How was he able to do it so successfully?
The most intriguing part in Phil Maton's arsenal is his spin rate.
Maton's fastball had an average spin rate of 2,572 RPM in 2016. Verlander led MLB starters with 2,565 RPM. https://t.co/iFIUwnWpky

— Dennis Lin (@sdutdennislin) October 23, 2016
Only two players in all of the major leagues had a higher spin rate than Maton in 2016- Andrew Bailey and Carl Edwards Jr. Maton has what you would call an "invisible fastball." The whole idea behind "spin rate" is this: pitches that spin faster to hitters tend to give them the appearance that the ball is rising as it approaches the strike zone. Sure enough, Maton's strikeout and swing-and-miss rates confirm this notion, as do scouts. Scouts have reported that Maton gets a lot of awkward swings-and-misses on fastballs above the strike zone.
He has one of- if not the highest- spin rates in the entire Padres organization.
Maton averages 90-92 on his fastball, but can reach 93-95 at times. His windup and mechanics are repeatable. His fastball is not going to blow anyone away, but it is effective. He mixes it up with his "out" pitch- a cutter- and a curveball with swing-and-miss potential. He also has a changeup that currently is in the developmental stage, and it figures to get better (if he needs it) with more experience.
The 23 year old right-hander has drawn rave reviews from insiders around the game. ESPN Insider Keith Law tweeted that Maton was a "legit prospect" and Eric Longenhagen from FanGraphs wrote that whoever found Maton "deserves a raise."
There are no plans to convert Maton back into a starting pitcher. It seems like all parties have bought into the idea that, right now, he profiles better as a reliever. Here is what Maton said about being a reliever back in a September 2 article with MadFriars:
"I do think going to the bullpen helped me out quite a bit," Maton said "Knowing that I only had to get three or at the most nine outs really helped me.  You don't have to save any bullets, just go right at hitters and attack them."
Phil Maton projects as a 7th-8th inning guy, but a deceptive delivery, high spin rate, and instant success as a reliever suggests he might be more than that. He is a guy who will be a part of the Padres bullpen sooner rather than later.
Total Views: 4459 ,
(Visited 1,132 times, 1 visits today)