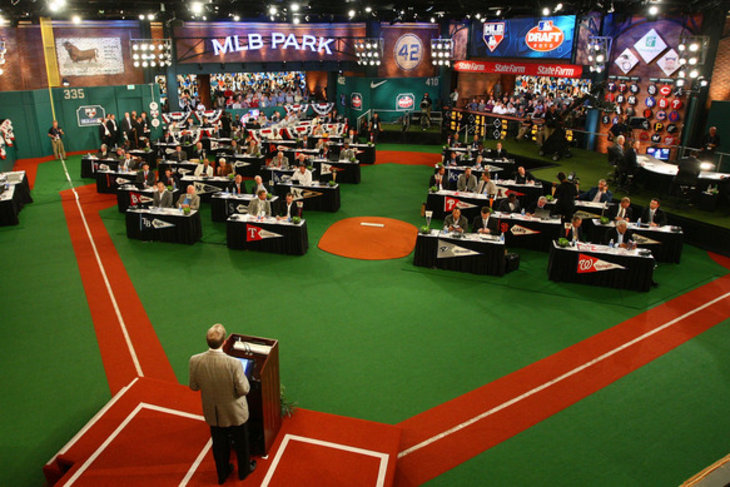 11. Chicago White Sox
Adam Haseley, OF, Virginia. Many scenarios here. Advanced bat with upside would be hard to pass up.
Other picks I could see here include; Feado, and Baz.
12. Pittsburgh Pirates
DL Hall, LHP, Valdosta HS (GA.). Hall is one of the better prep lefties with a combination of both pure stuff and projectability. He's climbing the draft charts and I'm wondering if he will be closer to a top 8-10 selection, instead of here at 12.
13. Miami Marlins
Mark Vientos, 3B, American Heritage HS (FL). I could see Vientos even being considered as high as number three to San Diego (one of my early considerations for the Padres) to a lesser extent. Big power, a ton of upside here in their backyard. I understand this might be a reach early, but he won't last until their second pick. The Marlins have shown interest Nick Protto too. Florida standout, Feado makes obvious sense here also.
Sounds like they're leaning prep pitcher here. We'll see…
14. Kansas City Royals
Shane Baz, RHP, Concordia Lutheran HS, Tomball, Texas. Baz has shot up some draft boards, and I am not confident he will last this long. However, teams might be hesitant because he may be a tough sign. That shouldn't stop a rebuilding Royals from picking the best player available.
The Royals need to start hitting on high-ceiling kids in hopes of rebuilding another World Series contender. I considered Trevor Rogers here. That's about as high as I could see him go, with the Pirates as one other possibility.
15. Houston Astros
Alex Faedo, RHP, Florida. I think Houston would love Adell here; I just can't see him falling.
Seth Romero is a strong possibility here. I think they may even be leaning that way now. I originally thought of him here, and I don't think his makeup concerns necessarily would have Houston balk. However, with other top 10 talents here, they could go for polish. In playoff mode, a possible fast-moving arm could be advantageous for a now perennial playoff contender.
16. New York Yankees
Nick Pratto, 1B/OF, Huntington Beach (Calif.) HS. Yankees are often conservative here, but they've long been in on Protto. Many mock drafts have him here. I just don't see them passing on a guy they like with his upside and floor combination at 15. Even though I've wondered if he would fall several spots.
Other picks I could see here include: David Peterson, Griffin Canning, Garrett Mitchell and Tristan Beck. Other authoritative sites have linked Tristen here and Canning.
17. Seattle Mariners
David Peterson, LHP, Oregon. A strikeout machine that continues to perform. He may rival Romero for some, and could be seen as better than Rogers. Peterson has been one of the more overpowering collegiate starters, and he's in their backyard. I can't see them passing that floor, ceiling and performance here. Jerry DiPoto's preference for possible fast-moving development collegiate players almost seems too good to be true here. Other picks I could see here include: I really liked Alex Lang here too.
I almost put him here as my pick, but they all seem so close. Will Crowe could also make sense.
18. Detroit Tigers
Griffin Canning, RHP, UCLA. Track-record and performance.
Other picks I could see here include: Burger also makes sense here for me. Vientos as well. Yankees covet Canning too, but more than Protto? We'll see.
19. San Francisco Giants
Trevor Rogers, LHP, Carlsbad (N.M.) HS. Rogers' upside, along with being a LHP may climb closer to number 10 come draft day; but the Giants are successful developing players and advancing them to the bigs and banking on their homegrown production.
Other picks I could see here include: seems like they're always grabbing a plethora of collegiate short stops here (or high ceiling, low floor pitchers) — I wouldn't be shocked to see them grab Warmoth here, or So Cal righty in Hans Crouse.
20. New York Mets
Alex Lang, RHP, Louisiana State University. A collegiate performer to an organization that is often conservative, accompanied by the fact they've been hit with a myriad of pitching injuries. Works for me at 20.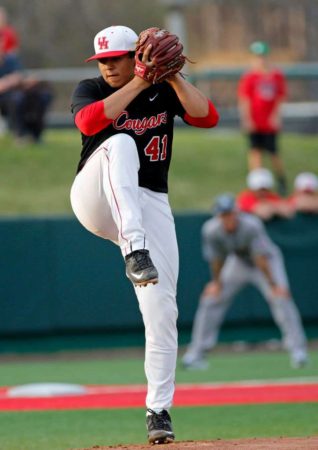 21. Baltimore Orioles
Logan Warmoth, SS, North Carolina. Warmoth has been linked to the Mets, Giants and Orioles, and as he's shown more pop as a safe-ish college short stop pick-to-stick at the position.
22. Toronto Blue Jays
Keston Hiura, 2B/OF, UC Irvine. There's no questions about Hiura's hit tool, and his probability to continue his maturation process at the next level. The questions of where he will play and his injury history could push him down this far. Wouldn't be shocked if he was picked as high as 10 overall.
23. Los Angeles Dodgers
Heliot Ramos, OF, Leadership Christian Academy, Guaynabo, P.R. Dodgers won't shy away from upside and have the resources to, along with a track-record for development, and to entice a young upside player in Ramos. Despite his limited track-record, an impact big power speed combination player is an easy gamble for a system flush with talent.
Other possible picks I could see here include: Vientos, Ricardo De La Torre, and Bubba Thompson and several of the upside prep arms.
24. Boston Red Sox
Seth Romero, LHP Houston. Boston hasn't wavered on players with makeup and off the field issues before. Simple; best player available and a huge (top 12) value here.
Strongly considered Ricardo De La Torre and Vientos here as well.
25. Washington Nationals
Hagen Danner, RHP, Huntington Beach (Calif.) HS. Washington doesn't have reservations with Boras' clients.
26. Texas Rangers
Ricardo De La Torre, SS, Puerto Rico Baseball Academy. I really like De La Torre, and hope he falls to the Padres at their second pick. I just don't see that happening. He's a physical specimen at just 17 years old, 6′ 2″, at a modest 175lbs. He's a fluid defender at short that should be capable there long-term. But the attraction this high is the mix of his tools across the board with the ability to impact the game on both sides of the diamond.
27. Chicago Cubs
Nick Allen, SS, Francis Parker HS, San Diego. It's no secret they've shown a strong liking to Allen's gamer mentality and highlight reel defensive plays. Borderline 1st rounder for me. But Theo gets his players.
28. Toronto Blue Jays
Jake Burger, 3B, Missouri State. Burger is all about power, and if you buy into his average being serviceable, you might take that value here. He's a borderline 1st rounder for me.
29. Texas Rangers Sam Carlson, RHP, Burnsville HS (Minn.). Like others on the board that have shown red flags for some organizations, such as regression in velocity, positional uncertainty, swing-and-miss issues that match their raw pure skill set, or injury; Carlson has improved his stock with an uptick in average velocity and solid performances.
Vientos and De La Torre could make sense here if the other experts pass.
30. Chicago Cubs
Tanner Houk, RHP, Missouri. Houk makes sense late in the 1st round. Houk has been a 1st round talent but scouts seem to have balked at his mechanics and regression in velocity. Would be a and rounder for me.
Looking forward to hearing everyone's criticism and why I either hate their team, or the prospects they see more favorably.
Total Views: 3378 ,
(Visited 9,200 times, 1 visits today)