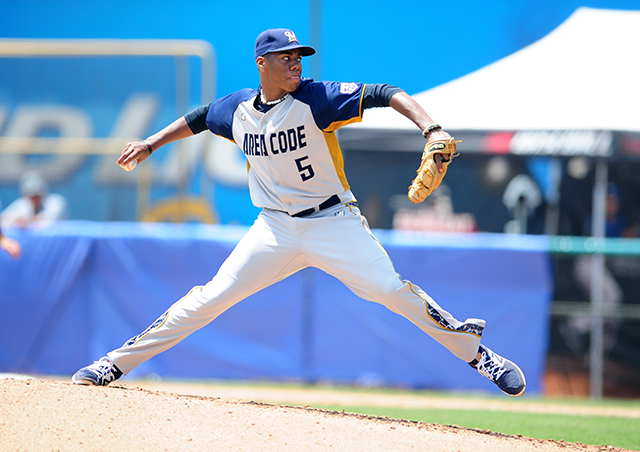 1. Minnesota Twins
The analysts seem to be hearing three potential outcomes here at the number one overall. The most obvious has been phenom, two-way-talent, Hunter Greene. Greene is a power hitting shortstop, that's been clocked at 102 MPH as a prep pitcher. You can understand the hype. In addition to his velocity at his age, he has a repeatable clean delivery with athleticism. The aforementioned attributes could give him a strong chance to pair his elite fastball with developing secondary pitches, and that could separate him from other previous prep flame throwers. An elite combination of tools, skill set and upside might enable him to reach his full ceiling at the highest level as a pitcher. Oh, and he has incredible raw power too, if you just thought seeding in 100mph fastballs was boring.
It's hard for me to imagine anyone passing up Greene; as I believe he could be a once in a generation type of talent.
Most recently, however, there has been talk of pitcher Kyle Wright and the Twins coming to an agreement. The logic here would be playing it safe by taking a polished collegiate pitcher with a solid ceiling, high floor that's been excellent while the Twins' front office brass has been evaluating his recent performances. Make no mistake, even though Wright is said to be a safe pick, he is still a top 5 pick, and might have fewer questions than the other two being considered — while also having a strong ceiling.
The Twins are also strongly considering LHP/1B — Brendan McKay. Another two-way-talent that's matched hype with production on an elite platform as a pitcher and a hitter. I tend to believe he makes the most sense here, as he is probably the safest talent in the draft, combined with possibly the highest floor.
I'll go against the recent media hyping rumblings that favor the Twins playing it a touch safer with one of McKay or Wright and stick with Hunter Greene. Mainly because I don't see how you can pass him up, and I believe he won't be as hard a sign, as some have implied he may be for the Twins. As the rumors have been prevalent that he'd prefer San Diego at the 3rd pick, since he lives on the West Coast.
Pick: Hunter Greene makes history as the first prep number one overall to the Twins.
2. Cincinnati Reds
I love McKay here for the Reds. Hearing they prefer him as a pitcher over a position player, but in that bandbox it's not hard to see him taking over for Joey Votto in the near future if his game doesn't develop on the pitching side of things. The Reds like Greene here too, but I mean of course they do. The Reds wouldn't shy away from a prep pitcher here with Greene's ceiling. But will he be here? I'm sticking with McKay here.
Pick: Brendan McKay, 1b/lhp, Louisville
3. San Diego Padres
If you even halfway follow me, you've probably heard me bloviating about SS/OF Royce Lewis as a potential pick for the Padres for a couple of months. Royce has a strong showcase at Petco Park, and while you pick the best player available regardless of position, it doesn't hurt that Lewis possesses the promise of sticking up the middle at short stop. A void the front office and fans have long been aware of since the departure of fan favorite, Khalil Greene.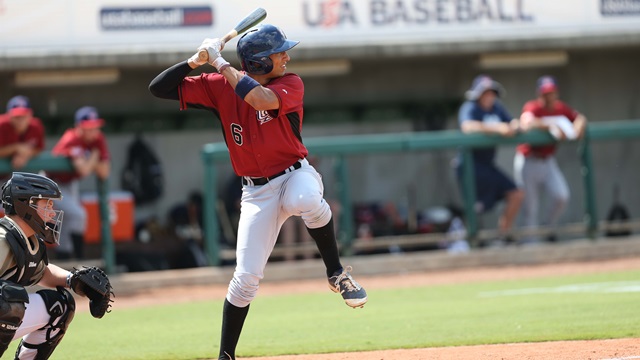 Lewis has had strong showings, despite some offensive questions as of late. However, his track-record is strong, his tools across the board are as impressive as anyone in the draft — especially paired with his impact potential at a premium position on both sides of the diamond. Moreover, the kid loves baseball and I believe wants to play, and play now. I think he'd be a quick sign to start his professional debut and get to work. Also, if you have never had the chance to hear his interviews, I'd strongly suggest doing so. You can usually find those on MLB.com fairly accessible. His interviews are impressive. He appears as passionate about the game as anyone, accompanied with a tireless work ethic, tools, projectability, baseball acumen and exudes his love for the game; while both in expression on and off the field.
I won't change my pick here that I've primarily focused on for months just because there's ample rumors elsewhere indicating someone like Greene (whom the Padres highly covet) may fall. There could be legs there, however, and if Greene does fall; which seems like a real possibility, that would be the better pick.
I'll list other possibilities for San Diego at number three that I think might be more possible than some may think.
Wright has been reportedly linked to the Padres' front office, and rightfully so. That said, I don't know if he will be available, and I don't believe he's their 1st choice, let alone 2nd and maybe even 3rd. As long as I can remember hearing about Austin Beck, I was a fan and tried following him. I remember asking an evaluator (forgive me if I don't remember) — if he was a top 10 talent months before rankings came out. He responded by suggesting the teams that covet him see him as exactly that. That helped me confirm my initial thoughts on him. I wouldn't be shocked to see the Padres grab him here. This kid is an absolute baller and if not for an injury, he'd be alongside Greene in the daily top 3 pick banter.
Mckenzie Gore is another strong possibility. I've heard that some actually prefer him to Greene on the mound. Gore is a high ceiling lefty with a high leg kick. He works with deception, stuff and feel. With the potential for three plus offerings. Scouts love his demeanor on the mound, and his competitiveness. Also, unlike some, he's maintaining his velocity throughout his outings — showing a legitimate glimpse at reaching his ceiling.
I had him high and I thought maybe I was reaching, but some analysts have him going as high as four to the Rays. That made me feel quite cozy, if I do say so. I think the Padres may be leaning towards Gore, and if they have any reservations about Lewis, he would be as strong a pick as any in the draft.
A side not here: the Padres experiment with catcher/RP Christian Bethancourt may have simply been a way to capitalize on an elite tool in Bethancourt and his velo — with the hopes he possibly added more value as an extra bench guy. But I'd be remiss if I didn't wonder if showing some of the two-way-players, such as a Green and Mckay that might be a possibility, come inking their future on the dotted line as a minor signing persuasion for the kids who don't want to choose between the two. Okay, maybe that's a reach. But is it..?
Don't tell anyone, but I'm sort of secretly hoping for Gore or Beck here. (As I think Greene will be gone). Not because I've wavered on my pick on Lewis at all; I just love all three and think their ceilings could all end up being very close and come to fruition. I think Gore has fewer questions to his game than Beck, and a comparable upside.
For the rest of the draft below, I've tried to simplify certain teams and their matches. Many make sense for multiple clubs, but some I simply like ahead of others (for a multitude of reasons) — and instead of trying to impossibly accurately pick all of them, I used a combination of what I'd like to see each team do, their talent, rising and falling stock, my hunch on some; where I originally had said player(s), team needs, (despite being a draft no-no) trends, and lastly, what I have also heard and think could match most fittingly.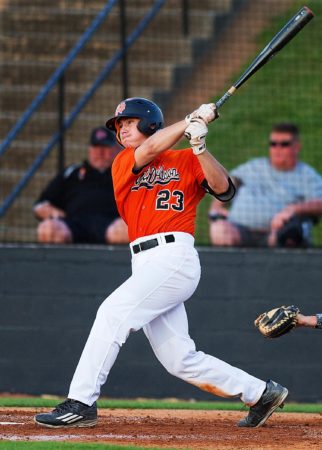 4. Tampa Bay Rays
Kyle Wright, RHP, Vanderbilt. Rumors of him going as high as number one. A complete pitcher, performer with a combination of pitch arsenal, upside, high floor and some projection.
Other picks I could see here include; Royce Lewis, and Mackenzie Gore. I would go Gore here, but I'm no general manager. So..
It appears Wright might seriously go number one overall.
5. Atlanta Braves
Austin Beck, OF, North Davidson High, Lexington, N.C. Despite Beck's limited track-record and injury history, the Braves seem to love him. He's healthy now, performing well and has stupid upside. Strongly considered Mackenzie Gore here. They'd go Gore if they had any reservations about Beck.
Other picks I could see here include; the aforementioned Mackenzie Gore, a myriad of the prep upside arms, Kendall and Shane Baz.
6. Oakland Athletics
Jeren Kendall, OF, Vanderbilt. No shortage of upside here in Kendall — with incredible athleticism and tools, tools, and more tools.
Other picks I could see here include: A lot of talk Bukauskas could go here. I think the A's are altering their draft methodology under David Forst. Could also see Pavin Smith, or a reach for or a pure hitting, high floor, Hiura type.
7. Arizona Diamondbacks
MacKenzie Gore, LHP, Whiteville (N.C.) High.
This early on in the draft, with limited separation from one another — we could see many surprises. Austin Beck makes sense here, Kendall if they covet him more than some of the prep arms, along with Jordan Adell and possibly Adam Haseley.
Other picks I could see here include; Austin Beck if he falls. Also, Jordan Adell or Adam Haseley. I'm not confident at all Gore will still be on the board here. He would be in my top 5. Sounds repetitive, right?
8. Philadelphia Phillies
Pavin Smith, 1B, Virginia. I have thought Smith makes most sense here for some time, but I wonder after Mickey Moniak and some troubling injuries to their young pitching core, if the Phillies' front office would turn their draft board to pitchers. Feado or DL Hall could also make some sense here. J.B. Bukauskas had been linked here, and while I think that could make sense — I think Smith is better value with a higher floor. I am not nearly as high on Bukauskas as some.
9. Milwaukee Brewers
Jordon Adell, OF, Ballard HS, Louisville. I wanted to put Baz here so bad, and I believe after drafting Corey Ray last year, they might look at pitching. That said, an influx of high ceiling OF's isn't a bad avenue. If they wanted to be more conservative here, they could reach down for a Canning type. I think they'll keep swingin' on Jordon Adell. I won't say Austin Beck here. Just kidding.
10. Los Angeles Angels
J.B. Bukauskas, RHP, North Carolina. Just a hunch here on Bukauskas. At this point in the draft we could see a lot of movement and draft shuffling. I know most mock drafts have him top 4-8; I just don't see it. Other picks I could see here include; Jordon Adell, and Adam Haseley.
PAGE 3 LINK BELOW
Total Views: 3379 ,
(Visited 9,201 times, 1 visits today)