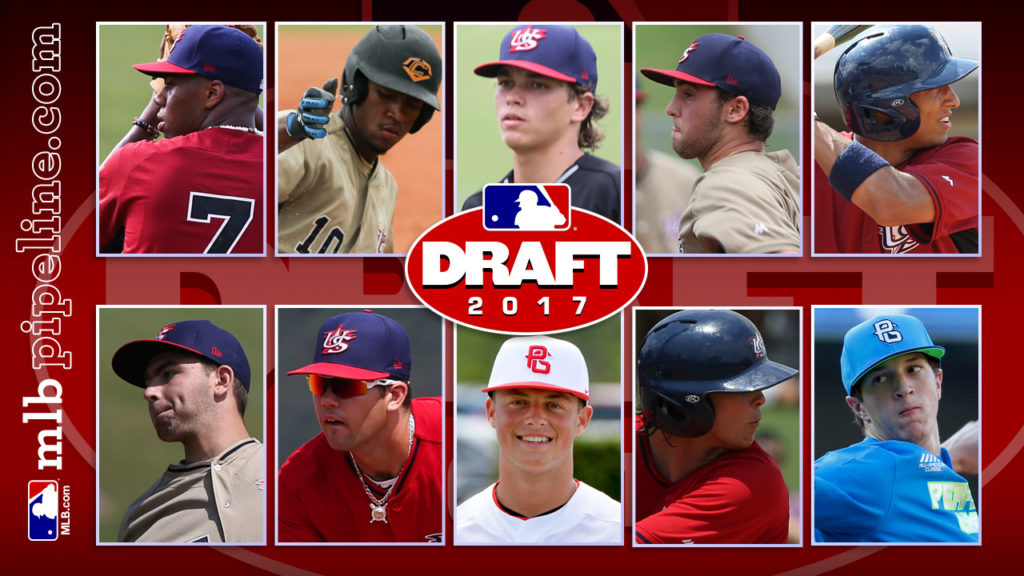 This is my first shot at an entire first round, mock draft. That being said, while I wanted to delve into the draft in its entirety and try to impossibly predict which team picks whom and where, my main focus was on the Padres early on.
The methodology was simple — I think. Try not to follow the hype too much and rumors from the various sites as much as possible — as teams have a good idea who they're going to pick fairly early, and while the rumors appear to change daily, that's not always the case for the teams coveting such prospects.
I noted players draft eligible throughout the year, I thought would go high (or fall) based on performances, tools, rank, and competition. Along with guys I just really liked. The most respected sites, such as Baseball America, and MLBpipeline.com help; as some provide a top 100-200 draft prospects. Thus, after I believe I have a decent grasp on a ballpark placement for a player, those sites can also help guide you, after making your separate selections. Did I rank this guy way too high? Has this kid fallen off from production or injury? In addition to those platforms and accessible sources being invaluable, I've found over the years to follow your own evaluation over the hype of the rumor mill, or bullish opinions from others; as often the band-waggoning perception of players will often be counterproductive if you have a decent feel for the game.
For example, oh, ESPN's Keith Law didn't like your guy, or Baseball America's John Manuel loves a first round talent you see being a bullpen piece and not a starter — so let's change your order? That's when you lose any real feel for where the said prospects will often climb, or fall in the rankings.
Follow who you like and track their production, health, competition, and try to project their ceiling with their tools, body type and athleticism (or lack thereof) and where you think they'd fit. Moreover, I believe it's important to evaluate each player individually first, without trying to draw a comparison to other prospects. Another key in my opinion in attempting to be objective, but also avoiding some of the hype. Every player is different; tools, mechanics, athleticism, mentality, baseball acumen, ceiling, floor, competition etc.
Attempting to remain open and objective to the myriad of outlets and information ad nauseam is difficult. If you love a player, rank him high on your evaluation of where he should be. Base your slotting on some of the aforementioned reasoning; not because another prospect with a very different situation has similar-appearing tools, projection or production in their respective leagues.
I tried to steer clear of the excellent authoritative evaluation sites, such as BaseballAmerica.com, or respected evaluators like ESPN's Keith Law. However, with social media and the blogosphere, instant news updates and regurgitated information, it's next to impossible not to retain some of that information in the process. On a side note, the guys from MLB.com, such as Jonathan Mayo and Jim Callis from BA (among others) do a great job year round of covering these talented kids — and their information seems endless.
I would give all the guys at Baseball America a follow on social media, and definitely check out Kyle Glaser as well. He's been doing a great job for BA and while relatively new, I think he's a good one with a very strong future in the business. I don't have a BA subscription, but everything I do get the opportunity to see, I like. Also, they all seem like really good dudes. Rare in a business full of strong opinionated egos and God complexes. For international prospects, Ben Badler (also from BA) is a must follow…
I will try to spare you a ton of background here on the players, statistics — as most of you have heard about so many of these players at length. But I'd recommend the other sites for a more extensive look at their schools, programs, attributes and current backgrounds.
PAGE 2 LINK BELOW
Total Views: 3380 ,
(Visited 9,201 times, 1 visits today)