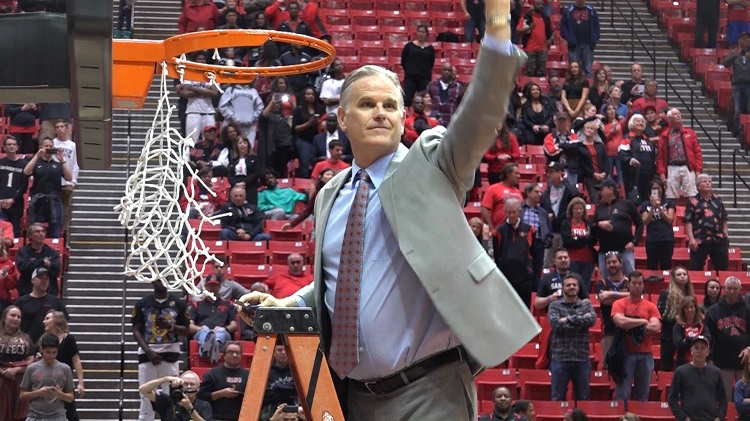 The era of Steve Fisher has come to an end, but the tradition will continue.
It's a scary thought, the San Diego State Aztecs being led onto Steve Fisher Court at Viejas Arena without Steve Fisher.
It has not happened since 1998, behind Fred Trenkle, a team that won two conference games, and four total games that season. Come the next Aztec basketball season, Brian Dutcher will lead SDSU onto the basketball court.
Brian Dutcher is ready. Brian Dutcher has stood by Steve Fisher since his days at Michigan. An unprecedented display of loyalty has played out between Fisher and Dutch over the last 30 years. Dutcher has proven his worth many times over in the past. In fact, Dutcher was credited for having the central role in the creation of the 'Fab Five', as well as bringing Aztec and San Antonio Spur Legend, Kawhi Leonard, to San Diego.
San Diego State Basketball will not skip a beat. Although the "Father of San Diego Hoops" has stepped down from his throne, Brian Dutcher has the experience to take the Aztecs forward as the 15th coach of San Diego State. Every championship banner and net cutting ceremony, and there has been many under Steve Fisher, has been shadowed by Dutcher. Dutcher is the most fit and qualified person to keep San Diego State on the path to excellence.
Brian Dutcher wants to be in San Diego. Dutcher's dedication to San Diego State and Steve Fisher over the last 18 years remains a marvel in modern college basketball. A time when too often, a coach leaves for a higher position and a larger check. Years ago, Dutch could have called it quits in San Diego. An impressive and substantial resume could have taken him to any lower level program. But Dutcher has stayed in America's Finest City, and he is now ready to lead its finest basketball program to many more net cutting ceremonies and championship banners.
Brian Dutcher, the once head coach in waiting since 2011, has not finalized his new contract with the university at this point. One thing is for certain, the face of Steve Fisher will not fall off the face of the earth. Fisher has relinquished his head coaching duties to Dutcher, however Fisher has made it clear that he will continue his work in the program.
The future of San Diego State Basketball will continue under Brian Dutcher, a man who has prepared for this role at SDSU for over 18 years in San Diego. Basketball in America's Finest City is in good hands.
For more San Diego Sports News, and up to the minute scores, news, and info check out Sports Diego on Instagram and Twitter.
Total Views: 555 ,
(Visited 63 times, 1 visits today)