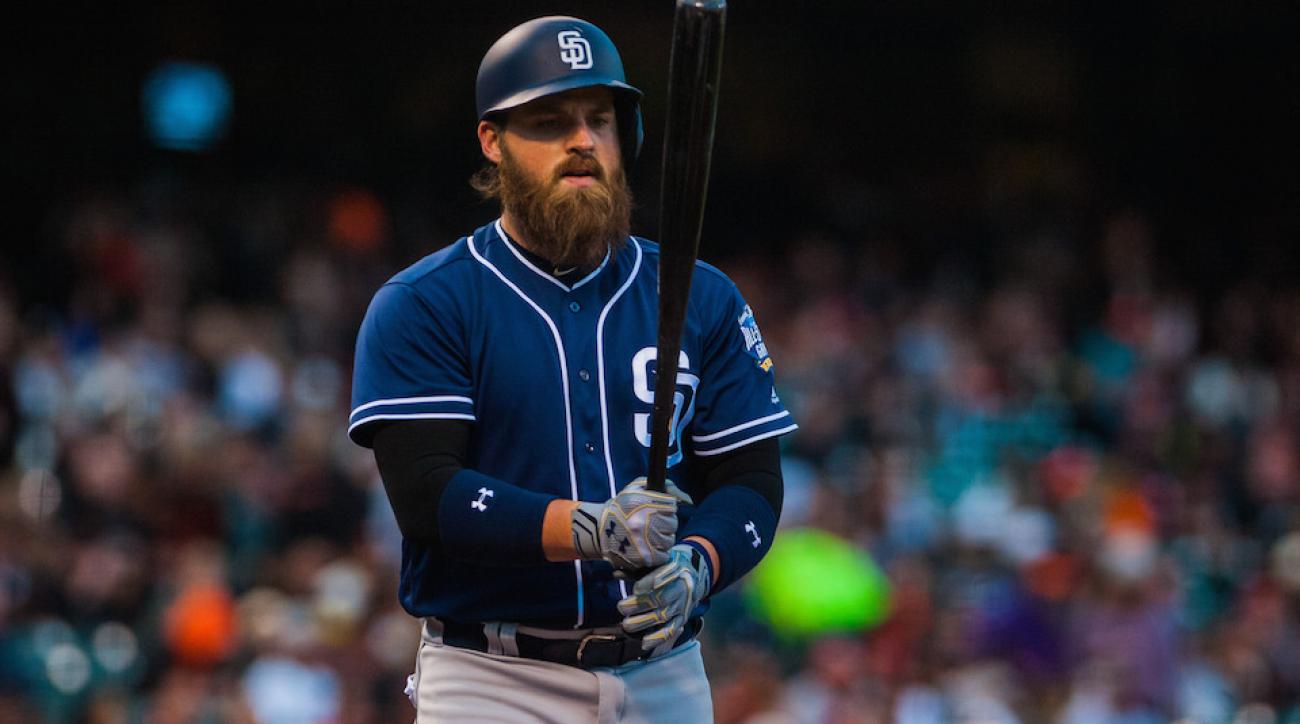 The are five potential landing spots for San Diego Padres catcher Derek Norris.
Before I delve into the Padres pitching preview (next week), let's look at a few potential trade scenarios that would attempt to bolster the pitching staff or middle infield depth, with players who may not fit on the current roster.
Derek Norris is the most glaring candidate here, as Austin Hedges' breakout Triple-A campaign has given the front office reason to believe he is the catcher of the future.
The problem:
Norris' trade value is at an all-time low despite a dearth of MLB-ready organizational catchers.
1. The Washington Nationals
The first team that comes to mind is his former team, who traded him to the Oakland A's, the Washington Nationals. Wilson Ramos will be headed to free agency after a stellar 2016 campaign, but the uncertainty of his health (torn ACL),and mutual interest in the off-season, might be too tricky for the Nationals to extend his tenure with the franchise. Norris is a bounce-back candidate and wouldn't cost the Nationals a ton. Their internal options are less viable than a catcher like Norris, who has a good chance at a production spike back towards his career peripherals.
The Nationals have some very attractive arms in their system, and third basemen that could be of interest, considering the Padres' lack of organizational depth in those areas. However, the Padres' emphasis on pitching and finding innings eaters in such an anemic pitching market could make for some very interesting, if not unorthodox, transactions this year.
Washington's minor league starting pitcher, Austin Voth, is a top-10 prospect in their system, and may be MLB ready. He pitched to a 3.15 ERA with an opponent's batting average of .232 for the Nats Triple-A affiliate. He intrigues me, despite not having the upside some of the other arms have. He appears polished and has the makings of a true innings eater, with two solid secondary offerings to go along with slight deception in his delivery that allows his 92-94 MPH fastball to play up.
You wouldn't get Voth for Norris alone, but throwing in someone like Jankowski could be enticing for a club looking to potentially push Trea Turner back to the infield and solidify a weak spot in center. The ideology here isn't a specific trade necessarily, but a potential match, given both clubs immediate needs and resources.
2. The Baltimore Orioles
The Padres and Orioles had plenty of trade deadline dialog last year, but nothing materialized. The Padres were rumored to be close to sending Melvin Upton Jr. to Baltimore for Ubaldo Jimenez. But with the O's, picking up Matt Wieters' lofty option in a scarce market is risky, and they may be more inclined to search for other reasonable options.
Could the Padres and Orioles revisit trade talks regarding Ubaldo, but for another Friar in Norris? That may be a solid match for both teams given their contracts and mutual needs at their respective positions. Ubaldo would eat innings, and a reunion in the N.L West could be good for his numbers.
PAGE 2 LINK BELOW
Total Views: 15568 ,
(Visited 4,231 times, 1 visits today)