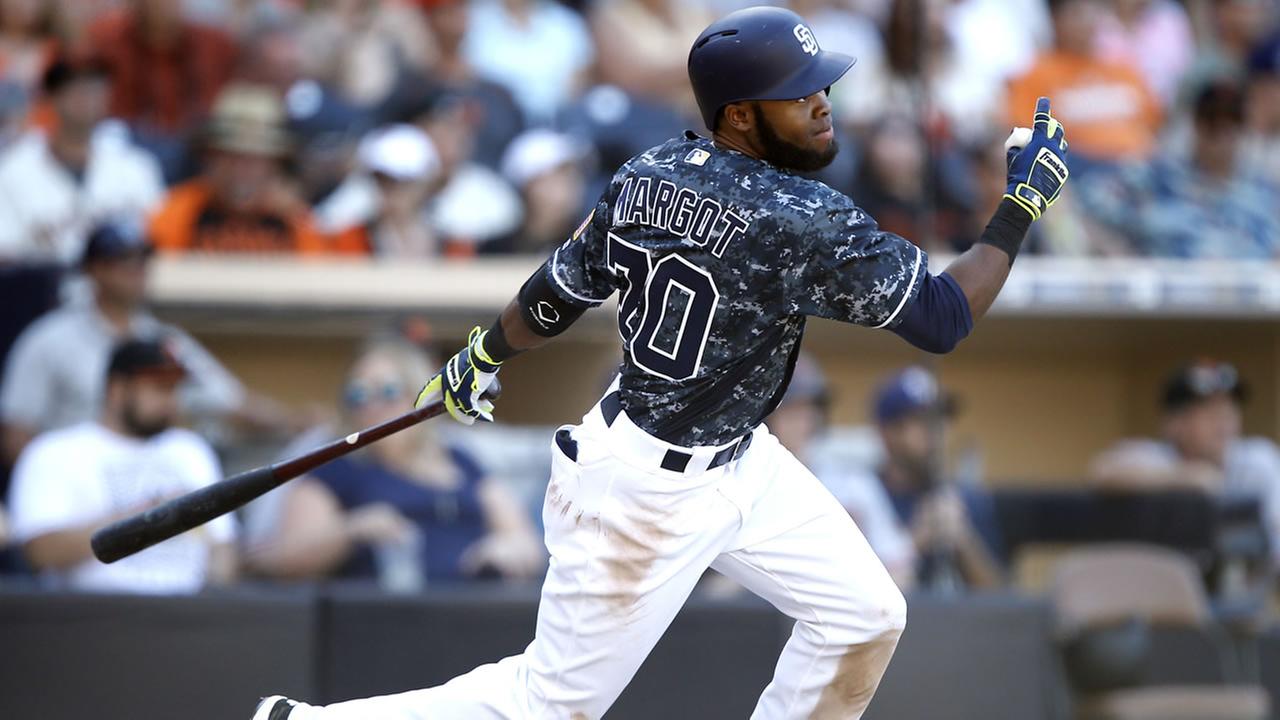 Last week I took a look at the infield and what that could showcase in 2017, given the internal options and incredibly early unknowns — as the off season hasn't yet to begin. Now, let's delve into the outfield depth and international options and assess what those options are, and what they will look like.
The Padres have a core of promising outfield prospects. Matt Kemp wasn't a bright spot during his tenure despite home runs and RBI's. The youth movement is not only exciting, but talented, and more importantly, ready to produce. Because of Kemp's atrocious defense and lackadaisical demeanor around the developing youngsters, it was addition by subtraction by shipping him to Atlanta. In contrast, Jon Jay was a stellar addition for the youth movement, and continues to provide a positive standard for how to play the game the right way and bring out the best in your teammates.
The Padres have interest in bringing back Jon Jay and his veteran presence to solidify another year of exemplary leadership and strong track record of production. Despite being injured on a hit-by-pitch last year by Gio Gonzalez, he proved to be everything the front office was hoping to bring into the organization, after missing the majority of last year for the Cardinals. His bounce-back year with the Friars was good enough to garner interest in bringing him back, but undoubtedly raises his free agent stock and other teams' interest as well. There's mutual interest, but the Padres do have other options on the rise that may be comparable if they fail to sign him.
Manuel Margot would be Jay's obvious successor in center, and we saw a glimpse of his potential in September as rosters expanded. Manny had a fantastic year for the Padres' Triple-A affiliate in El Paso, after coming over in the Craig Kimbrel haul. His maturation from the Boston organization to the majors in his brief stint has been extremely impressive. It may have convinced the Padres that Margot can start now, given his stellar 2016 campaign. That said, there's no rush with him, and delaying his service time and signing Jay could be smart for a team that will likely not be a contender next year — in attempt at prolonging his tenure with the Padres. That's the idea behind bringing back Jay, as well as his leadership assets.
Manny hit an impressive .304/.351/.426, with .777 OPS, 157 hits, 21 doubles, 12 triples, six home runs, and 30 stolen bases to 11 caught steals. In addition, in his first showcase at the Triple-A level, he only struck out 64 times in 517 at bats.
Peaking to Margot or Jay's left on the diamond, Hunter Renfroe's adjustments in El Paso in terms of production and maturation have pushed him from a prospect with holes, to the future in right field. There truly is organizational confidence in the power hitting outfielder. Renfroe made tweaks to his approach in El Paso, where he has some big swing-and-miss to his game, and not only did he hit for power, but also for a higher average than ever in his minor league tenure. Upon his promotion, much like Margot, he didn't fail to impress with his cannon arm in right, and his light-tower-power. He destroyed pitching in his first week as a major leaguer, garnering him an N.L. Player Of The Week honor, not to mention being the first player ever to hit a ball atop the Western Metal Supply Building in Petco Park's history.
Renfroe has all the makings to flirt as a perennial All-Star if he can continue to get on base and hit for some average with his massive power. Because of his stellar 2016 campaign, he was given the Padres' Minor League Player Of The Year award. Hunter hit, .306/.333/.557, with a .893 OPS, 34 doubles, five triples, 30 home runs, and 105 RBI for El Paso before destroying major league pitching in his first week as a big leaguer — where he posted a stupid .371/.389/.800 slash line, with a ridiculous 1.189 OPS, three doubles, four home runs, and 14 RBI in just 11 games.
While fans should temper their expectations with Hunter, because he's still a rookie with some development and struggle ahead of him, he will be the right fielder to open 2017, barring any injuries.
PAGE 2 LINK BELOW
Total Views: 3957 ,
(Visited 1,730 times, 1 visits today)