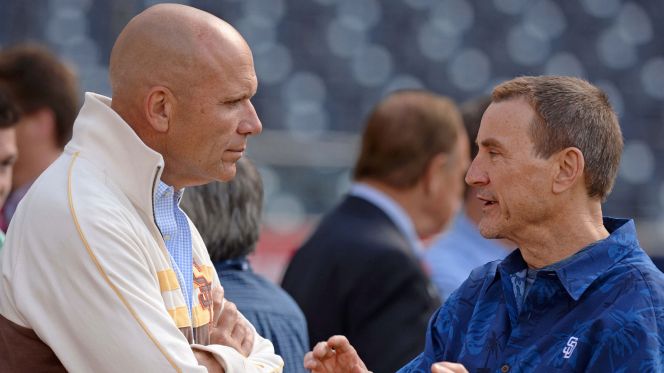 A day after the San Diego Padres released a statement regarding their "departure" from now former team President & CEO, Mike Dee, a few questions were particularly interesting to me more than others. Dee's tumultuous tenure is well documented, as others in the media have made note of many of the Public Relations blunders under his realm. Let's look at some of the more notable stingers.
The first big gaff was the uproar caused by the Padres' PR staff for their misguided naming of an area in Petco Park, named Bud Selig Plaza. The immediate backlash was strong and simple: why are you naming any part of Petco Park after the former MLB commissioner — who in large part has been the center of media and fan lambasting, has been ignoring the PED era like the plague to continuously pumping MLB revenue at any cost, and has many other warranted  negative critiques? The speculation had been that a deal was made to name the Plaza in an attempt by the Padres at landing the 2016 All-Star Game in exchange. It was a sort of middle ground agreement to speed up any possible passing over of the Padres being All-Star hosts of the Summer classic.
Then there was the Johnny Manziel incident. Yes, the former troubled collegiate star and media fueled "Johnny Football" was drafted by the Padres as draft eligible under the guidance of Dee. Taking away an opportunity from a legitimate potential baseball player to simply grab headlines was a disgrace, and undermined legitimate player opts tireless efforts to sign, follow, and build relationships with families and players alike, in an attempt at signing and following their maturation through the system regardless of how slim the odds, deep into the latter parts of the draft. What a joke, and not a great message to future amateur ball players looking to sign their next big life commitment.
The Padres had a technical malfunction from their DJ (DJ Artform), while they were giving the San Diego Gay Men's Chorus' presentation of the National Anthem. The choir was humiliated as the technical issue of a prerecorded music backdrop was inserted in place of theirs by mistake. The blunder was never rectified in the scramble to fix the issue, in addition to the choir walking off the field to homophobic slurs. The DJ was subsequently fired as a fall guy under Dee's watch, then rehired after a media backlash — as the human error seemed unjust reason.
If an accumulation of the aforementioned snafus weren't enough to garner a eye rolling at the highest level for continued PR mishaps and laughable punch lines at the organizations expense, the theme continued. The Padres had scheduled a Phillipino Heritage night, but on a day they didn't even play at home. It was almost impressive how unorganized the public relations team headed by Dee was.
The Padres have failed to connect with the fan base for some time, and while the ownership lead by Ron Fowler and Peter Siedler are passionate enough to do things right and win, the front man was making them an even bigger laughing-stock on a record loop. There's long been a disconnect between the Padres fan base and ownership over a musical-chair like rotation of general mangers, ownership groups, issues, and similar problems, alongside shipping off-key fan favorite players and failed drafts.
The attempt at mending this, headed by Dee, was a failure during his tenure. He was so saturated with the success in 1998 when he was here, not the current state of the club's best interests, and not the fans, but an unwavering arrogance to emphasize his agenda, and not the well-being of the franchise.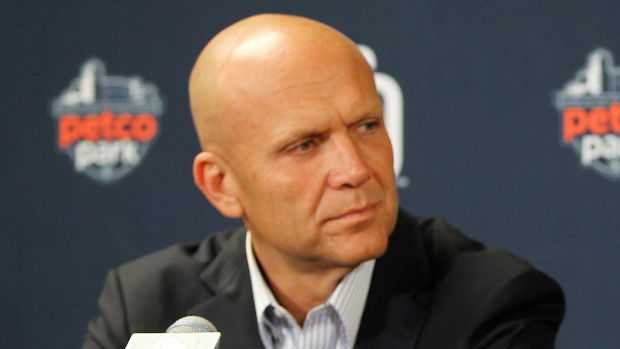 The Padres would try to increase revenue by using the park as an alternative venue for music concerts and other entertainment events. This seemed like good business to squeeze as much yearly earnings as possible out of the organizational assets. However, it also took a hit as longtime head groundskeeper Luke Yoder's departure was suspect in the aftermath of those changes. The grass went through an ugly transformation during these processes and was panned as speculation to one of the reasons Yoder left.
In any case, maybe that was minor in retrospect, and they needed to try to compete with other clubs, but their failed attempts at keeping likable and loyal Padre employees was a bad look.
The Padres had attempted what I thought at the time was a valiant effort to rectify a connection with the fans with the formation of the Padres Social Hour. It started out well, with now beloved radio announcer Jesse Agler as host. Jesse is an extremely likable guy, is very engaging with the fans, and knows his baseball. His passion as an "outsider" doesn't go unnoticed, and that passion resonates with fans. He's "one of us." The Padres seemed to have hired Jesse with the thinking he would be taking on other roles on a trial basis. He performed incredibly, and as a result, eventually was promoted into the booth, doing some TV and now radio. In doing so, the void within social hour needed to be filled and they brought in Mike Janela.
Janela, like Jesse, was an outsider, but was probably never going to get a fair shake, as Jesse was so beloved on social hour. His tenure was short-lived and the fans are so tired of the endless changes. Moreover, Janela may have felt some of that pressure and came off very awkward, and his chemistry (or lack thereof) with the current special guests was uncomfortable at best. Janela is a nice guy, but the wrong hire under producer Wayne Partello, who was brought in under Mike Dee. Additionally, we saw another awkward departure when they let go of long time fan, Padre employee, and Social Hour contributor, Mike Grace. The Padres don't need a host that comes off like he's in a late 90's dating show, and they fail to realize that people like Grace are good at their job. In fairness to Janela, I think he did as well as he could under the circumstances, and I'd never wish ill or unemployment on anyone.
While Dee has been a great source of inspiration for Padre internet memes, and is loud vocally, he's garnered headlines continuously for all the wrong reasons, and he always seemed to have a scapegoat to throw under the bus to save face. Dee hired A.J. Preller, who has been another person at the forefront of controversy. Preller was reprimanded by MLB several years ago for his alleged international tampering. Dee was his defender and cheerleader to ownership, as the Padres new general manager hired to turn around the franchise. Preller is currently under suspension for what appeared to be a witch hunt by MLB, various media strongholds, and even some executives. The suspension came from trades the Padres had made, allegedly withholding medical information. MLB described their medical history disclosure as an honor system, since they didn't have MLB specified guidelines for trade protocol indicating specifics. Ultimately, in those trades, there was an uproar from other organizations, and by their account, information went lacking in an attempt to sway the playing field. That said, while Preller was hit with the 30-day suspension, the speculations didn't seem to add up. Ordering a head trainer to sort two separate medical files into secrecy doesn't strike me as being on any general managers' to-do list.
Are we so naive to think this is some unprecedented happening in MLB, and A.J. was so brash to think he was going to pull one over on rival MLB GMs? Or does that sound more like something someone starving for an edge, with an ego that is business oriented, and lacking baseball opts experience?
Mike Dee isn't a baseball evaluator, scout or opts expert, yet he has influence as the boss over the organizational moves?
While I speculated that the order to hold two separate files for team injury history and personal history was Dee's doing, Preller was simply the easy fall man because of his past and job title in those exchanges, and more rumblings reaffirmed my speculation. ESPN's Keith Law had tweeted that he had heard that the Padres' ownership, at the time of the suspension, was more upset and held Mike Dee more accountable than Preller. I know what you're thinking; this sounds like a nice PR spin to save face for Preller and their current and future relationships, and make Dee the sacrificial lamb. However, it's simply logical that Preller wasn't at the forefront of a filing process, as he's a talent guy, an evaluator, and his expertise, as far as I know, is in international scouting, not clerical work. He is also continuously on the road almost every day of the year while Dee is responsible for the inner works of the team.
If a baseball insider like Law heard that at the time of the suspension, there's no reason to believe Dee is the fall guy in an attempt at salvaging A.J.'s tenure, since he's rightened the ship on the prospect front and impressed with his expertise. Despite Mike Dee's attempt at pushing A.J. to be competitive quicker than he envisioned, Preller has indicated in the press since he was hired that the rebuilding process might take a while. Dee had other thoughts and was his boss.
While Dee pushed A.J. onto ownership, it's my belief that they're now convinced he's the right man for the job, despite issues and a suspension that may have been someone else's ordering, under just another embarrassing gaff lead by a business man PR guy who aided in the hiring of Preller in an attempt to leave no stone unturned. I don't think that's what ownership had in mind, nor Preller himself.
While Dee's departure was probably an accumulation of some of the notable aforementioned blunders, it's hard not to draw a parallel to the suspension of Preller. That was simply the final straw for ownership, not as a fall guy for a bad look, or one isolated incident, but a myriad of nightmarish mistakes by a guy who should never have sniffed baseball opts, let alone seen his tenure exist for another second. While there were reports that the Padres ownership may have been split on A.J. Preller, it could be that the guy who was just canned was the main divide to save his himself.
Total Views: 9869 ,
(Visited 4,647 times, 2 visits today)