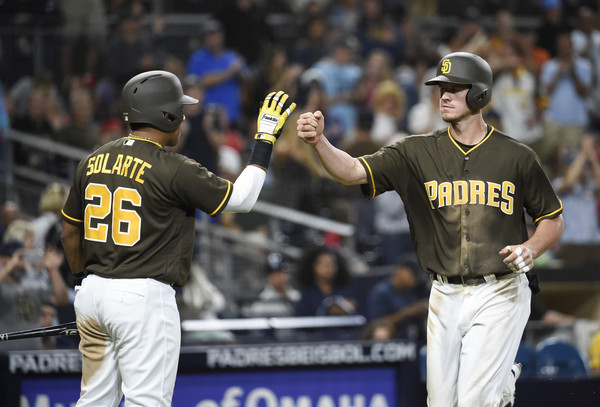 The San Diego Padres go into the off-season with a set of young core players, but with few positional promises, to open up 2017. Suffice it to say, it is insanely early to predict what the 25-man roster will be, and many transactions over the course of continuing the rebuilding process will undoubtedly happen during the off season. Nevertheless, regardless of how different things may look on Opening Day in April 2017, it's always fun to speculate, given the current internal options, potential Free Agents, and possible promotions.
Let's look at the current infield depth and what the roster could look like with the current options.
•First Base
It goes without saying that Wil Myers' healthy reemergence into an All-Star season solidifies his spot in the Padres lineup, as well as his maturation defensively over at first base. The Padres would like to extend Myers, but his decline in the second half may have put his value into question. Will he be one of the best first basemen in all of MLB statistically, or will he be closer to his Rookie Of The Year campaign,where he was extremely solid, but falling short of superstardom? It's probably a safer bet he falls somewhere in the middle, but the first half dominance showed how valuable he can be, and it could be advantageous to extend Myers to a lofty contract based on the entire body of work over 2016, and not solely the 1st half — as that would possibly take him out of the Padres' affordability in correlation to their respective realistic contention time frame.
The Padres could capitalize on his healthy resurgence this off-season to further bolster their farm system, in an attempt at avoiding any possible health questions or second half decline moving forward. That said, I believe the Padres and baseball executives have been convinced Wil is the real deal, and has become one of the more likeable players in recent memory. Thus, given the circumstances, Wil is almost certain to stay unless the Padres Front Office was presented some absurd un-passable deal.
The Braves have been interested, and had made calls on Wil during last season, but that's due diligence, and it is pretty commonplace to gauge a player's organizational price tag. Expect to see Wil batting in the middle of the order in 2017.
•Catcher
The catching position appears relatively straightforward, as Austin Hedges had a breakout 2016 season for Triple-A El Paso. The Padres brass have always been sold on his elite defensive skill set, and for the most part his hitting development, but the power he showed garnered surprise by everyone. Derek Norris had an atrocious year both offensively and defensively, and the Padres failed to capitalize on any value he had at the beginning of last year. That said, his plummet was also extremely unlikely. After the Padres traded former top prospect Casey Kelly to the Braves for once top catching prospect Christian Bethancourt, it seemed Norris' tenure as a Padre would be short-lived. But a trade never materialized and the Padres balked at other teams' pedestrian asking prices.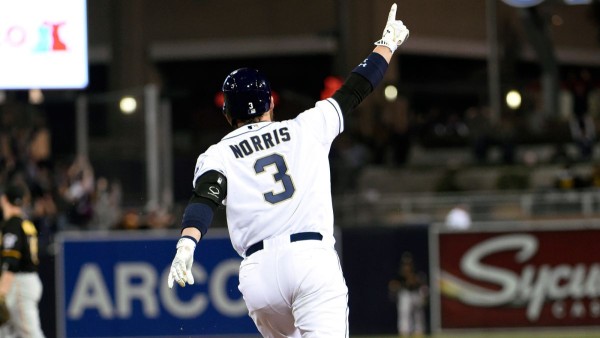 Heading into the off-season, the Padres may turn the aforementioned Bethancourt into an unprecedented super utility hybrid reliever, catcher, and occasional outfielder. If that is the case, and that plan comes to fruition, the Padres would need another backup catcher. They have Hector Sanchez, whom they like, and whom they claimed from the White Sox. He fared well in his limited time with the Friars, appeared to be in favor of the young pitching staff, and had a strong season for the El Paso Chihuahuas, like teammate Austin Hedges.
It's far too soon to speculate what will happen with Bethancourt or how confident they are in Hedges as a full-time catcher, as he did struggle in the small-sample size of at bats he had upon promotion. However, the Padres are extremely high on his skill set, and he will have every opportunity to start in 2017, and rightfully so. He's the future behind the plate.
But who will be the backup?
Is there a chance that instead of DFA'ing (designated for assignment) Norris, they could simply hold onto him as a viable backup that's familiar with the organizational pitchers, and bank on a very probable spike back towards his career peripherals? I pose this question because his trade value is low and won't bring back much in return. While he'd be a pricey backup to Hedges, building back his value from a bench role could be the best option in an attempt at squeezing the most value out of an asset come July 31st 2017. Maybe I'm thinking far too much into things, but I think that's something they will at least consider.
In all likelihood, Hedges is your starting every day catcher, with either Bethancourt or (both of Bethancourt's experiment as a P/C/OF is a success) Sanchez as your backup as cheaper options than Norris.
PAGE 2 LINK BELOW
Total Views: 4471 ,
(Visited 1,902 times, 1 visits today)