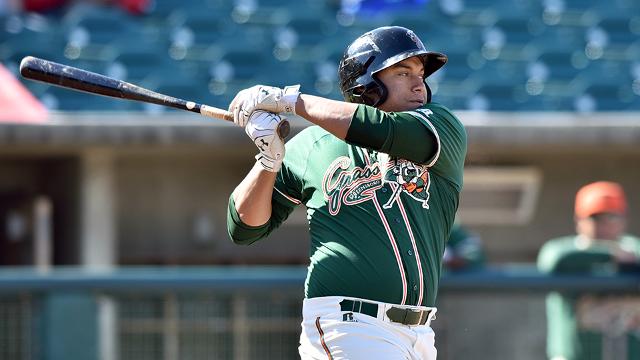 The Padres have agreed on a deal that would send starting pitchers Andrew Cashner and Colin Rea to the Miami Marlins for top first base prospect Josh Naylor and right handed pitcher Luis Castillo, according to Yahoo.com's Jeff Passan.
Andrew Cashner has been mentioned in trade rumors for what feels like the last few years ad nauseam. The fact that he is an impending free agent at the end of the season only solidified the inevitably of him being dealt before the trade deadline in an attempt to continue to rebuild the Padres' system.
Cashner battled to throw a quality outing against a very tough Blue Jays lineup on Tuesday — which concluded his tenure with the Padres. He wasn't very efficient early, and didn't help himself by walking guys in the powerhouse lineup Toronto has. However, he did something I haven't seen him for all year — he pitched inside constantly, backing players off the plate with authority.
Cashner has had a roller-coaster couple seasons, let alone tenure with the club. He's shown no-hitter stuff and been dominant at times, and he's also looked lost and even timid on the mound. That said, it appears he's turned the corner… for now.
Rea, 26, entered last year's season as one of the Padres' better prospects. Some viewed his ceiling as a starter minimal, but refinement in his secondary offerings, control and a spike in velocity, gave him that of a back-of-the-rotation starter. He's hovering right around a five ERA this year.
The Padres add even more depth to a now close-to-top farm system in baseball, as they continue their retooling from the bottom on up.
Josh Naylor is a polished power hitting first baseman. His defense is a work in progress but his athleticism could pay dividends with more work. However, he will never be a plus defender (maybe not even average), but his feel for pure hitting and power should play up even if he is never an above average fielder. He has plus raw power, as he's received 60 grades on the 20-80 scale. While he's slow, (very slow) he is a good base runner.
I know what you're thinking, another first baseman and the Padres have Wil Myers. That said, Naylor is only 19 and if the Padres fail to extend Wil Myers, the window for his free agency in correlation with Naylor's development wouldn't clash. Moreover, the Padres will add top value regardless of position. Naylor, 19, was the 12th overall pick by the Marlins in 2015, and was rated by Baseball America as the 100th best prospect in baseball.
The 23-year-old Luis Castillo has been one of the most asked about prospects in the Marlins system. The right handed pitcher has enjoyed success this year as a starter after being transitioned from a relief pitcher last year. Originally signed by the Giants as a reliever, the Marlins decided to give his live arm a shot and it has been paying off ever since. Castillo has a plus fastball that comfortably sits in the upper 90's and often hits triple-digits. While both his secondary offerings show promise, they both need refinement to make advancements as a starter at the next level.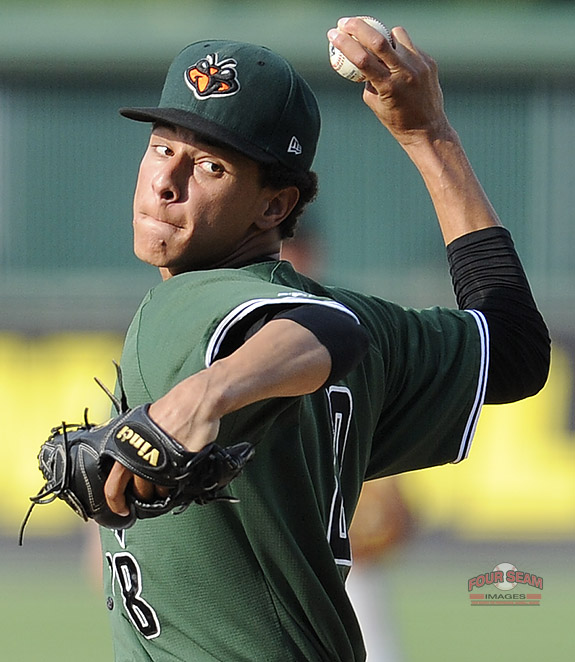 How the Padres also acquired Jarred Cosart I'll never know. While he's having an atrocious year with a well over five ERA, the Padres can plug him in the rotation pairing him with the best pitching coach in baseball, Darren Balsley. In addition, Cosart is still young at 26, and the Padres have had success with reclamation projects with electric stuff — see Drew Pomeranz and Tyson Ross.
Padres part with a rental and a back-end-of-the-rotation starter for upside and an aforementioned innings eater reclamation project with electric stuff.
Cashner, now 29, came over in the trade that every Padre fan loathes; a trade which sent Anthony Rizzo to Chicago in exchange for the tall right-hander. The former Padre regime believed they could get better quicker, and utilize a more MLB ready player in Yonder Alonso. Yeah, I know… repeated kicks to the face.
Then GM John Byrnes felt Alonso's hitting style of using the whole field (before the Padres modified PETCO park) would be advantageous. Whereas Rizzo was young and his swing had holes. Former Padre skipper Bud Black apparently lacked faith in Rizzo's ability to generate enough contact and power with his long swing and with some mechanical issues. Rizzo went to the Padres Triple-A affiliate, and started to work through those issues, but the Padres tried to capitalize on their depth after they acquired Alonso in the Mat Latos haul. Not only was it one of the worst trades in Padres history, it was a flawed strategy of trying to tailor your team to the ballpark instead of using the best player (potential). I digress…
Cashner appeared to be a closer in the making and wowed fans with his triple-digit fastball. He was acquired, however, with the notion that they would at least try to use him as a starter. The transition looked like a positive one, if not a good swap of talent for both the Cubs and the Padres. But as time went on and Rizzo continued to season, Cashner was solid but inconsistent, while Rizzo ironed out his mechanical issues. The Padres rookie Alonso became a fairly likable player, as he broke the Padres' rookie record for doubles. It sure seemed like they got their guy and potential ace, but that simply never materialized, as Rizzo's ceiling dwarfed anything Alonso would ever do, and magnified Cashner's inconsistencies and variable injuries.
There's not a team that doesn't watch Cashner on any given day when he's on that isn't still intrigued by his pure stuff. And while he was a disappointment for San Diego (primarily because of who they gave up) his stuff can beat any pitcher on any given night and that's what the Marlins are banking on down the stretch in a playoff race. In addition to adding a rental in Cashner, they will also have depth long-term by adding a controllable starter in Colin Rea.
The rebuilding continues, and while I'm not a fan of knee-jerk reactions, the Padres leveraged the weakest pitching market in years (maybe ever) and absolutely owned this trade.
Update — 8:14 am: Padres also send reliever Tayron Guerrero and get recovering Tommy John closer, Carter Capps. When healthy, Capps is one of the most dominant relievers in the game.
Guerrero is a fireballer that could use more seasoning at the Triple-A level. He has struggled with command and his secondary offerings.
What an unbelievable haul for the Padres.
Total Views: 5026 ,
(Visited 1,543 times, 1 visits today)