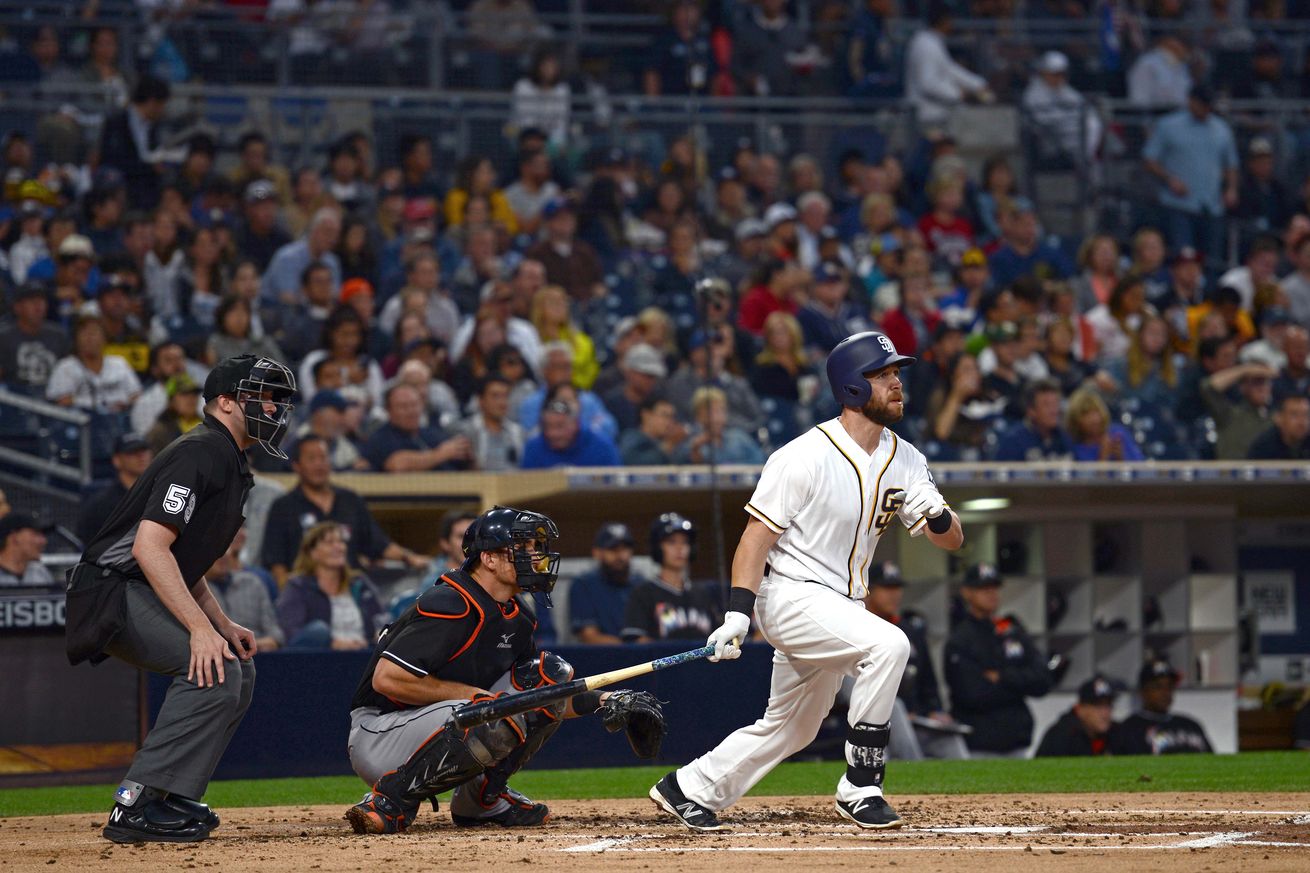 One of the more under-the-radar bright spots in 2016 for the San Diego Padres, is infielder, Ryan Schimpf. Schimpf, now 28, who was signed as a minor league free agent by A.J. Preller. He garnered interest as a depth player that had fallen behind the depth chart in the Blue Jays organization.
Schimpf has always had a steady track record for barreling up balls, making hard contact and hitting home runs throughout his minor league career. He's smaller in stature, at 5′ 8″, but the power plays almost like a middle-of-the-order hitter. He was a force as a third baseman at Louisiana State, putting up gaudy numbers. However, scouts questioned his defense, and like many players of small stature of the power variety, fell behind the organizational focus.
While he's never been the most consistent hitter from an average standpoint, the homers have always been there. In fact, you'd have to go back to 2011 to see the last time Schimpf didn't reach a 20+ HR season in the minor leagues. Something seems to have to click from an overall offensive standpoint, as the average is finally creeping closer to his HR peripherals the past couple seasons. Of course hitting in the notorious hitting friendly PCL League has helped. Where he hit a stupid 355/.432/.729 for Triple-A El Paso before his promotion with 15 homers, and led the PCL in OPS.
Schimpf gives the Padres infield flexibility, as Cory Spangenberg has been hit with two hamstring tears, and the road back won't be a short one. Furthermore, going back a couple of years, Spangenberg had been plagued by concussions that hindered his maturation process. His future had been in question until his emergence last year, but with him never playing a full season, with questionable injury history, it's hard to evaluate his ceiling on the MLB level. When he is healthy, however, he is productive.
The Padres have infield prospect, Carlos Asuaje, who came over in the Kimbrel trade. I believe he is more coveted internally than his prospect status may suggest, and could force the Padres' hand to play second base. In addition, Asuaje can also play third — which doesn't hurt their options moving forward.
Yangarvis Solarte has been a catalyst at third since acquiring him from the Yankees for Chase Headley. Solarte simply hits baseball's very well. However, with roster spots so incredibly vital in protecting the development and availability of prospects on the 40-man, it's possible the Padres utilize their depth, and bring in players they may covet more — while selling high on players, such as Solarte.
Through just 75 MLB at bats, Ryan Schimpf has seven HR's, and an impressive 151 OPS. For comparison sake, in Jedd Gyorko's rookie campaign, where he bashed 23 homers — he hit 8 of those 23 HR's in his first 282 at bats. Between El Paso and San Diego, Ryan has blasted a combined 22 HR's this year.
While no one should expect that kind of production from Schimpf to maintain, there is reason to believe his power is legitimate, even as a 28-year-old rookie. The Padres Triple-A park in El Paso is a launching pad, but his home runs per at bat from El Paso to San Diego are comparable. Schimpf won't win you any Gold Gloves out there, but he's a serviceable defensive player with power that will play anywhere on the diamond.
Another great addition by A.J. Preller for next to nothing, as he was an aforementioned minor league free agent signing. It will be interesting to see if he has any long-term consideration for the team on the 25-man roster. Moreover, he's at least put himself in the conversation, and gives the Padres flexibility, added value and options moving forward
Total Views: 2486 ,
(Visited 1,090 times, 1 visits today)