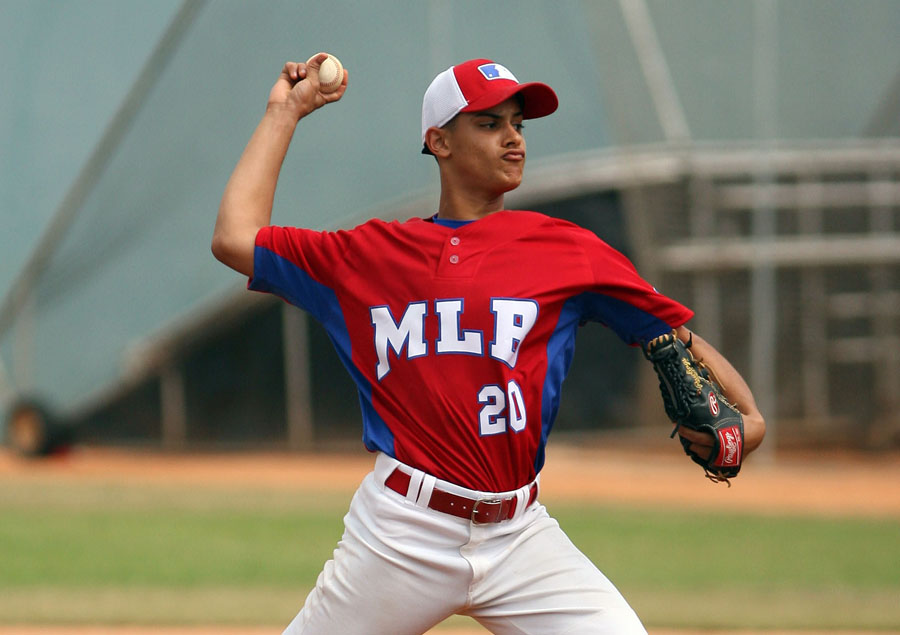 The Padres have traded outfield Melvin Upton Jr., to the Blue Jays for Minor Leaguer, Hansel Rodriguez, according to, Jon Heyman. The Blue Jays will absorb an unknown amount of Upton's remaining contract. He his owed roughly 21.6M through next year. The Padres are playing their first ever game in Toronto, so the Padres outfielder will simply walk across to the home dugout to suit up for his new digs.
Hansel, 19, was signed in 2014 as an international amateur as a 16-year-old by the Jays. Moreover, knowing Preller's expertise and background, his interest shouldn't be a surprise. At 6'2″-170lbs, he has a strong frame that is projectable moving forward, and that started to show last year as there was a spike in his velocity from 93-94 as an amateur, to 97-98mph.
His arsenal is made up of his plus fastball and two secondary offerings (slider and change-up) which are both lacking. That said, as a 19-year-old with plus velocity and a delivery on a growing frame that isn't uncommon. This year in rookie ball, Rodriguez has gone 2-1 with a 3.06 ERA in 32.1 innings and 6 starts, has accumulated 26 strikeouts, with an opponent's batting average a tick over .200. Obviously he is a work in progress, and needs to refine his secondary pitches to advance as a starter, but with that frame, upside it's not hard to see him being am elite set-up-man if he cannot find the groove as a starter.
A.J. Preller has taken one of the worst far system's, (in part his doing in attempt at building a competitive team quickly) — and in less than a year turned that into arguably the best in baseball.
Once a warranted media dubbed "bad contract", Preller took on to necessitate a Kimbrel trade, has turned that around for more upside in an already built-up farm system, with depth and massive upside.
Upton is enjoying a resurgent year, from highlight reel catches in the outfield, to stealing home, will provide insurance for the Jays down the stretch in a playoff push. Upton is batting .256/.304/.439 in 92 games with 16 homers and 45 RBIs, and he's stolen 20 bases.
Upton was one of the bright spots in 2016 in a tough season for the Padres, and he will be missed by the fan base after winning over the Padres' fans with stellar overall play on both sides of the diamond.
Total Views: 1964 ,
(Visited 764 times, 1 visits today)