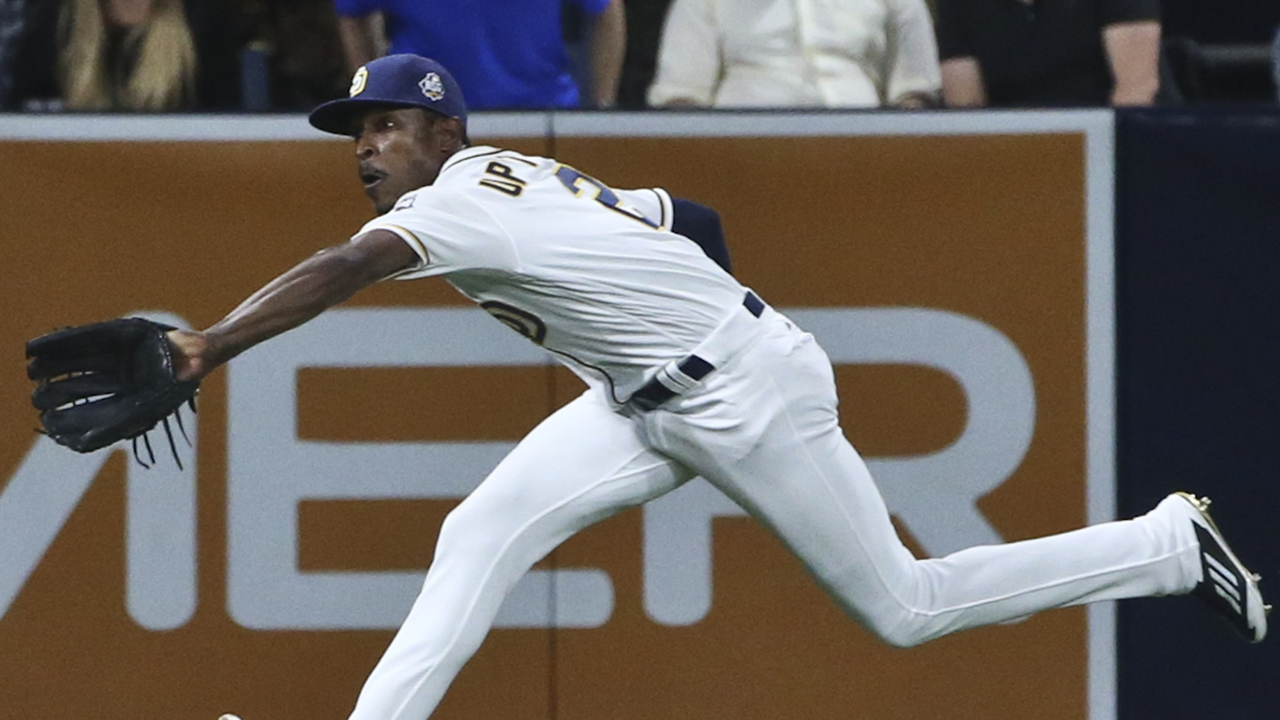 The Royals have been hit hard with injuries to their core players; namely — Mike Moustakas and outfielder Lorenzo Cain. The Royals are built on pitching and elite defense. Melvin Upton is enjoying not only a resurgent year, but currently having a career year — as he's made a couple of mechanical adjustments, and benefited from some time off during last year, both mentally and physically — as he was battling through the mental vigors of the game, and various injuries.
Melvin would fit the Royals' mold for top defense, and with the way he's been playing, add offense down the line for a playoff push.
While the Royals are not known for adding lofty contracts, they have shown reported interest in the Padres slugger; taking on some of that contract could necessitate a trade that would be advantageous for both parties.
Speaking of reasonable options — Jon Jay is closer to being healthy, and it might be more realistic in an August trade, but he would also garner interest.
The Padres could look at their third base prospect, Hunter Dozier — who played in the futures game with Padres' prospects Hunter Renfroe on the USA team, Carlos Asuaje and Manuel Margot on the wold team side.
Dozier is not a top 100 prospect currently, but is having a good year and has the potential to be an everyday third baseman, in an organization lacking depth at the position.
In addition, the Royals have shortstop Raul Mondesi Jr. While the Royals wouldn't want to part with their top prospect, he is playing behind Alcides Escobar; so he could be expendable.
You couldn't get a guy like that for Upton, even taking on a substantial part of his contract, but it may not be inconceivable to add a strong relief pitcher — to bolster an already strong staff reliant on late inning stoppers. Could a package comprised of Upton, Buchter and one of Cashner or Solarte net Mondesi?
The Padres still lack a shortstop that's on the upper levels of their system — the aforementioned third baseman in Dozier, would both fit the Padres immediate needs.
The Rangers seem to pop up what seems like on a daily basis in any Padres trade speculation — as Padres' GM. A.J. Preller oversaw many of the Rangers top international signings. In addition to being as familiar with their farm system as anyone, there appears to mutual interest on the Rangers behalf. They have shown notable recent interest in Andrew Cashner, and still like his potential upside.
They would be banking on his upside, not production, and believe he would flourish near his home as a native Texan. It's also possible they would look to extend the right hander, and it would seem like there would be mutual interest.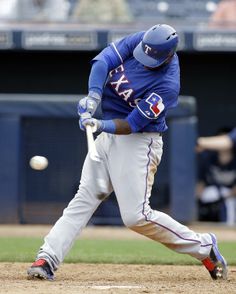 The Rangers are as deep as anyone with prospects, but the ones you will hear the most, are third baseman, Joey Gallo and shortstop, Jurickson Profar.
Profar has missed substantial time over the last two years with injuries to his throwing shoulder, and that's hindered his once top prospect in all of baseball's playing time. Still only 23, he's playing second and some first base, and some question his ability to play short again every day. That said, you would be banking on his bat as upside at SS, but knowing the floor would be at second base — where his value would still be extremely high.
Gallo on the other end makes sense too, as he's blocked by Adrian Beltre, and while I believe they could fit him in with players like Moreland that are set to leave via free agency after this year, and with Prince Fielder underwhelming, it also makes sense to bring in players in a win-now playoff push.
The Rangers are reportedly open to dealing Gallo for Jeremy Hellickson; and while the Padres could not match that pitching upgrade, maybe they could entice them with quantity?
With rookie outfielder, Nomar Mazara regressing with more playing time, as often rookies do — they could look to add another experienced outfielder. I heard the Rangers were in on Drew Pomeranz before he was shipped to Boston, and possibly even Upton. Having said that, maybe a combination of players in Upton, Cashner and another linked target for Texas, Padres catcher — Derek Norris could net one of AJ's guys.
The Rangers could also look to bolster their pen if they feel like the price for starting pitching is too steep, as other industry sources have opined. Ryan Buchter could also make sense in that hypothetical scenario.
While I believe Gallo and Profar have been targets of Preller, the Rangers also have an intriguing prospect, Travis Demeritte. Demeritte is playing second base after the signing of Beltre and Gallo ahead of him on the third sacker depth chart. He is a bit further away than an immediate impact guy like Gallo or Profar, but could also be of interest. In addition, southpaw Yohander Mendez, who is climbing up the scouting ranks as we speak and continuing to progress in double-A. There's a deal here to be had, it's not a matter of if, it's just a matter of when…
PAGE 2 LINK BELOW
Total Views: 4959 ,
(Visited 2,041 times, 1 visits today)